Image
Image
Image
Image
Cruiser and Cruiser Hydro
CORONARY GUIDE WIRE
INDICATED FOR PTCA APPLICATIONS
---
The combination of hybrid core wire materials (stainless steel/nitinol) and advanced design technology ensures excellent results with the Cruiser and Cruiser Hydro guide wires.
---
KEY FACTS
Perfect control and easy handling due to hybrid core wire material
Able to treat multiple vessels due to enhanced tip shape retention and durability
Greater treatment flexibility provided by multiple tip stiffness and support levels
---
Product Details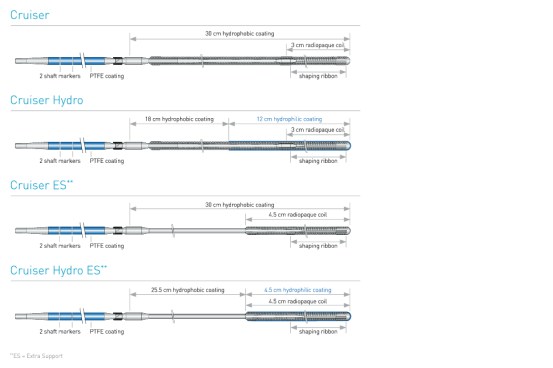 Perfect Control and Easy Handling
The stainless steel proximal core wire offers optimised pushability for easier lesion access. Moreover, the chromium enriched nitinol distal core wire provides optimal flexibility and precise steering.
Multiple Vessel Treatment Option
The stainless steel shaping ribbon enables easy tip shaping and outstanding shape retention. Furthermore, the nitinol distal core wire features improved durability. This combination allows for multiple lesion access.
Greater Treatment Flexibility
Three tip flexibilities, two support levels and two distal coating options offer an ideal solution for every individual need.
Additional Key Features
Hydrophobic coating ensures smooth guide wire trackability and improved introduction into target lesions as well as reduced device friction.

Hydrophilic coating on Cruiser Hydro guide wires provides lubricity to facilitate access through very tortuous anatomy and highly challenging lesions.

Platinum distal coil wire offers optimal visibility.
Technical Data
Guide Wire
Diameter
0.014"
Length
190cm
Core wire material proximal
Stainless steel
Core wire material distal
Chromium-enriched nitinol
Proximal coil
Stainless steel
Distal coil
Platinum, radiopaque (3cm for Standard Support/4.5 cm for ES)
Shaping ribbon
Stainless steel (3cm)
Proximal (shaft) coating
PTFE
Distal coating
Cruiser, Cruiser ES: Hydrophobic (30cm)
Cruiser Hydro: Hydrophilic (12 cm) and hydrophobic (18 cm)
Cruiser Hydro ES: Hydrophilic (4.5 cm) and hydrophobic (25.5 cm)
Range of tip flexibilities
High flexible, flexible, medium
Range of support levels
Standard and extra support (ES)
Shaft markers
92cm and 102cm from distal end
---
Contact
---
* Also indicated for peripheral arteries as per instructions for use.