Image
PRO-Kinetic Energy Cobalt Chromium Stent System
Image
PRO-Kinetic Energy Cobalt Chromium Stent System
Image
PRO-Kinetic Energy Cobalt Chromium Stent System
Image
PRO-Kinetic Energy Cobalt Chromium Stent System
PRO-Kinetic Energy
COBALT CHROMIUM CORONARY STENT SYSTEM
---
Indicated for improving coronary luminal diameter.6 The combined power of stent design, delivery system and proBIO coating are at your fingertips.
---
KEY FACTS
60 μm thin struts1 for better clinically proven results 2
Highly flexible double helix stent design for optimal deliverability and vessel conformability
proBIO coating for enhanced biocompatability3
Proven Orsiro/PK Papyrus stent design provides exceptional deliverability
---
Product Details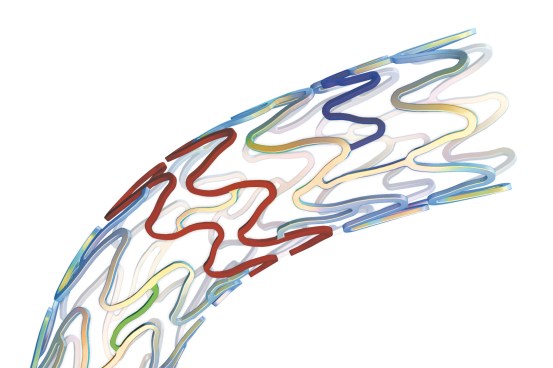 Advanced Stent Design
The PRO-Kinetic Energy stent design offers exceptional bending flexibility without compromising scaffolding or fatigue resistance. This advanced stent design allows for a smooth outer contour when bending without ridged transition zones.
Helical meanders give flexibility to the stent for excellent delivery and allow for a smooth crimped profile.
Wedge-shaped transitions at the stent ends allow for consistent scaffolding throughout the entire length of the stent.
Longitudinal connectors provide stability for optimal scaffolding and support without sacrificing flexibility.
Ultra Thin Strut Design
Struts of only 60 μm1 result in exceptional flexibility and deliverability of the stent in even the most challenging anatomy.
Powerful Cobalt Chromium Alloy
Our advanced materials allow engineers to push the limits of design with novel concepts for thinner struts
without compromising other aspects of the stent.
proBIO Silicon Carbide Coating
proBIO acts as a diffusion barrier, sealing the bare metal surface and reducing ion release. In vitro studies have shown up to a 96% reduction of allergenic metal ions4 when the stent surface is coated with silicon carbide.

By providing a barrier against ion release, the silicon carbide coating creates a surface that reduces platelet aggregation while facilitating endothelialization.3
Innovative Stent Delivery System
Expect effortless deliverability from the stent delivery system built with Pantera PTCA balloon technology featuring an Enhanced Force Transmission (EFT) shaft and thinner materials for added pushability and trackability.

Enhanced Force Transmission (EFT) shaft improves kink resistance and pushability due to the gradual transition from the proximal to the distal part of the shaft.
Advanced Thermal Crimping
Advanced thermal crimping techniques were developed for PRO-Kinetic Energy to ensure secure stent retention forces as well as a smooth, low crossing profile (0.95 mm/0.037")5.
ENERGY
Prospective, non-randomized, multi-center, observational registry to evaluate the clinical performance of the PRO-Kinetic Energy BMS in a large real-world patient population in standard clinical care.
Number of patients (n) 1,016
Technical Data
Stent
Stent material

Cobalt chromium, L-605
Passive coating
proBIO (Amorphous Silicon Carbide) coating
Strut thickness
ø 2.0 - 3.0 mm: 60 μm (0.0024"); ø 3.5 - 4.0 mm: 80 μm (0.0031"); ø 4.5 - 5.0 mm: 120 μm (0.0047")
Delivery System
Catheter type
Rapid exchange
Recommended guide catheter
Recommended guide catheter
Lesion entry profile
0.017"
Guide wire diameter
0.014"
Usable catheter length
140 cm
Balloon material
Semi crystalline co-polymer material
Coating (distal shaft)
Hydrophilic coating
Marker bands
Two swaged platinum-iridium markers
Proximal shaft diameter
2.0F
Distal shaft diameter
2.5F: ø 2.0 - 3.5 mm; 2.8F: ø 4.0 - 5.0 mm
Nominal pressure (NP)
9 atm
Rate burst pressure (RBP)
16 atm (2.0 - 4.0 mm); 14 atm (4.5 - 5.0 mm)
Compliance Chart
Balloon Diameter x Length (mm)
Nominal Pressure
atm5
9
9
9
9
9
9
9
9
9
(NP)
ø (mm)
2.00
2.25
2.50
2.75
3.00
3.50
4.00
4.50
5.00
Rated Burst Pressure
atm5
16
16
16
16
16
16
16
14
14
(RBP)
ø (mm)
2.33
2.59
2.83
3.12
3.42
4.07
4.65
5.11
5.63

Ordering Information
---
Contact
---
1 2.0 - 3.0 mm stents
2 ISAR STEREO I & II; (I) Kastrati et al. 2001. Circulation. 103(23): 2816-21.; (II) Pache et al. 2003. J Am Coll Cardiol. 41(8): 1283-8.
3 Rzany A, Schaldach M. 2001. Progress in Biomedical Research 2001 May: 182-194.
4 BIOTRONIK data on file
5 1 atm = 1.013 bar
6 Indication as per IFU