Image
Image
Image
Image
Dynamic
BALLOON-EXPANDABLE STENT/0.35"/OTW
INDICATED FOR ILIAC ARTERIES1
---
The Dynamic balloon expandable stent system is ndicated for the treatment of de novo restenotic or atherosclerotic lesions in the external iliac artery, through a 6F introducer sheath.2 The proBIO-coated Dynamic stent features state-of-the-art trackability and stent flexibility
---
KEY FACTS
Helical stent design for optimal stent flexibility
Trusted delivery system for state of the art trackability
Improved stent surface biocompatibility3
---
Product Details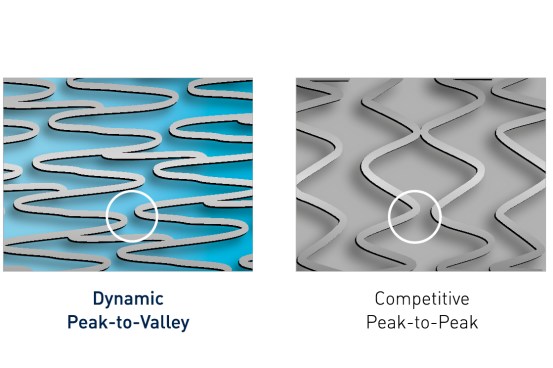 Flexible Stent Design for the Iliac Artery
The helical stent design provides optimal flexibility, respecting vessel movement
Peak-to-valley design avoids the fish-scaling effect optimising stent scaffolding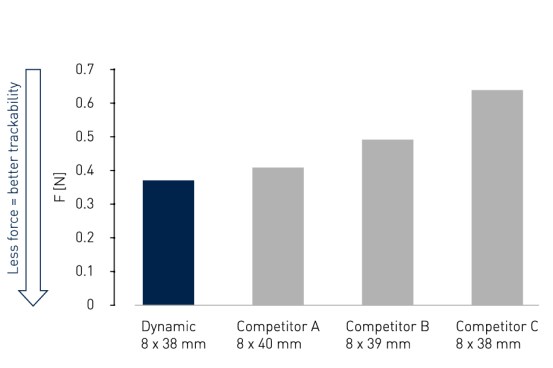 State of the Art Trackability
The dynamic delivery system offers excellent trackability.
Improved Stent Surface Biocompatibility3
The proprietary proBIO stent coating provides a barrier against metal ion release. This results in a reduction in platelet activation and encourages a continuous endothelial layer to form on its surface. The amorphous silicon carbide coating therefore provides an improved biocompatible stent surface.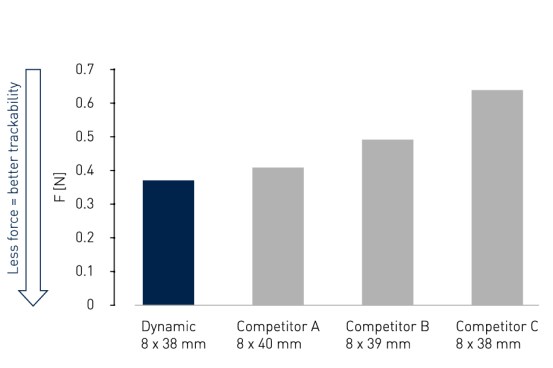 Smooth Tapered Tip
Dynamic has a coloured tip for better tip visibility, promoting easy guide wire insertion. The smooth tapered tip design facilitates gentle trackability in tortuous anatomies.
Technical Data
Dynamic Stent
Stent
Balloon-expandable

Stent material

Stainless steel

Strut thickness

160 μm (ø 5.0 - 8.0 mm)
180 μm (ø 9.0 - 10.0 mm)

Shortening

Negligible

Stent coating

proBIO (amorphous silicon carbide)

Sizes

ø 5.0 - 10.0 mm; L: 15 - 25 - 38 - 56 mm

Delivery System
Catheter type
OTW
Recommended guide wire
0.035"
Tip

Soft, short, tapered, colored
Balloon markers

2 swaged markers

Shaft

5 F, hydrophobic coating, dual-lumen
Usable length
80 and 130 cm (ø 5.0 - 8.0 mm)
Markers
2 swaged markers
Guide wire lumen

Hydrophobic coating
Nominal pressure (NP)
9 atm

Rated burst pressure (RBP)
15 atm (ø 5.0 - 8.0 mm)
13 atm (ø 9.0 - 10.0 mm)
---
Ordering Information
---
Contact
---
1 Not TGA approved for use within common iliac arteries.
2 Dynamic 10 mm diameter stents are 7F introducer sheath compatible.
3 Rzany A, Schaldach M. Smart Material Silicon Carbide: Reduced Activation of Cells and Proteins on a-SiC:H-coated Stainless Steel. Progress in Biomedical Research 2001; May: 182-194.