Image
Image
Image
Image
Image
Image
Pulsar-18
SELF-EXPANDING STENT/0.018"/OTW
INDICATED FOR FEMORAL AND INFRAPOPLITEAL ARTERIES
---
Being a relatively mobile artery, the SFA (superficial femoral artery) requires a stent that conforms to natural vessel movement and sufficiently supports complex, long lesions that are often difficult to cross. Pulsar-18 is a stent designed for SFA with high multi-directional flexibility on a low-profile delivery system.
---
KEY FACTS
One-handed stent release for accurate stent deployment
Low profile 4F delivery system with stents of up to 7 x 170 mm
S-articulating connecting bars and peak-to-valley design for multi-directional flexibility
Segmented stent design with thin struts for lower restenosis rates
---
Product Details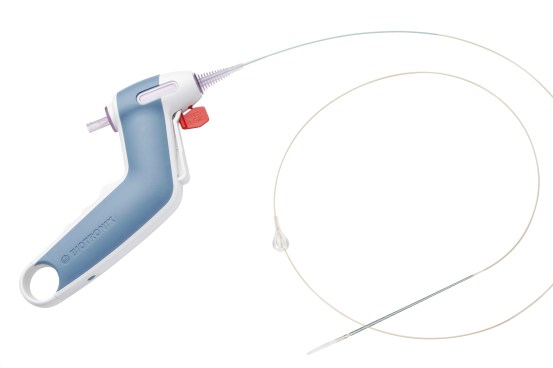 One-Handed Stent Release
Ergonomically designed for a comfortable and stable handling, enhancing ability to immobilize complete system during stent deployment.
Safety Tab: Avoids accidential stent deployment
Trigger: For controlled stent delivery
Easy release: Relieves friction of introducer valve on the retractable shaft during stent deployment for a smoother action.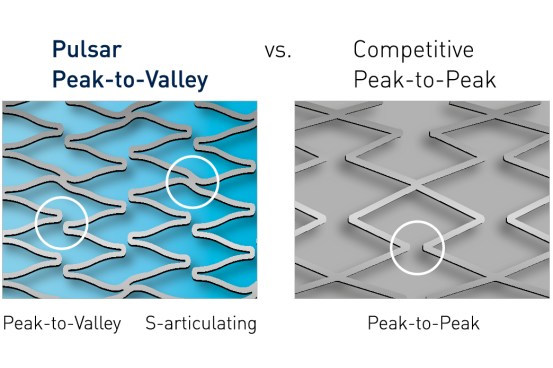 Stent Designed for SFA
Peak-to-valley design and S-articulating connecting bars provide multi-directional flexibility and avoid fish-scaling in mobile vessel architecture.
A segmented design with thin struts provides low chronic outward force (COF)1 sufficient to maintain vessel scaffolding even in calcified lesions (4EVER study)2. High COF has been shown to result in higher rates of neointimal hyperplasia.3
Stent lengths up to 170 mm cover long lesions with a single stent.
Low Profile Delivery System
4F distal shaft profile for easier lesion crossing. 3.6F proximal shaft for contrast injection with device positioned inside introducer and across lesion.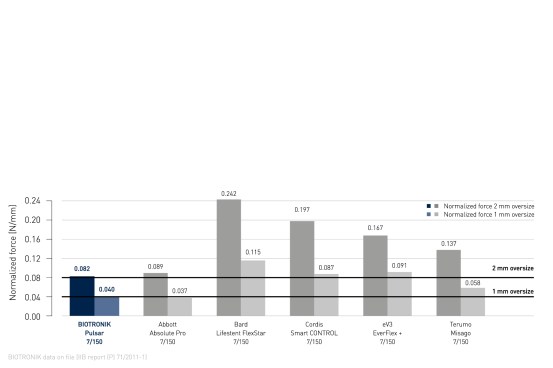 Low Chronic Outward Force
Low Chronic Outward Force (COF)1 is sufficient to maintain vessel scaffolding even in calcified lesions (4EVER study2). As shown in the graphic, COF of Pulsar stents increases less than many competitor stents when oversized, thus potenitally reducing inflammatory response and restenosis3.
BIOLUX 4EVER
The objective of this clinical investigation is to evaluate the short- and long-term (up to 24 months) treatment outcome by means of dilation with the Passeo-18 Lux drug-releasing balloon and by Pulsar-18 stent implantation in symptomatic (Rutherford 2-4) femoro-popliteal arterial stenotic or occlusive lesions. ▪ Estimated enrollment: 120
DEBAS-I
A prospective, multicenter, investigator-initiated registry to evaluate the implantation outcome of the Pulsar-18 stent followed by Passeo-18 Lux Drug-Coated Balloon in the femoropopliteal arteries. ▪ Number of patients (n): 65 (12-month data available for: (n) 51).
Technical Data
Pulsar-18 Stent
Catheter type

OTW

Recommended guide wire

0.018"

Stent material

Nitinol

Strut thickness

140 μm

Strut width

85 μm

Stent coating

proBIO (amorphous silicon carbide)

Stent markers

6 gold markers each end

Sizes

ø 4.0 - 7.0 mm; L: 204 - 170 mm

Proximal shaft

3.6F, hydrophobic coating

Usable length

90 and 135 cm

---
Ordering Information
---
Contact
---
1BIOTRONIK data on file (IIB report (P) 71/2011-1).
24EVER study. Bosiers. M. 24m results presented CIRSE 2013; Deloose K. 24m results presented LINC 2014.
3 -Ballyk PD. Intramural stress increases exponentially with stent diameter: a stress threshold for neointimal hyperplasia. J Vasc Interv Radiol. 2006 Jul;17(7):1139-45.
-Freeman JW, Snowhill PB, Nosher JL. A link between stent radial forces and vascular wall remodeling: the discovery of an optimal stent radial force for minimal vessel restenosis. Connect Tissue Res. 2010 Aug;51(4):314-26.
-Zhao HQ, Nikanorov A, Virmani R, Jones R, Pacheco E, Schwartz LB. Late stent expansion and neointimal proliferation of oversized Nitinol stents in peripheral arteries. Cardiovasc Intervent Radiol. 2009 Jul;32(4):720-6".