Image
Reinforced Introducer Sheath System/ 4F, 5F and 6 F
Image
Reinforced Introducer Sheath System/ 4F, 5F and 6 F
Fortress

®
Providing access to lower limb arteries.
---
Key Facts
---
Coil reinforced sheath designed for kink and deformation resistance
Sheath marker to provide tip radiopacity
Hydrophobic coated sheath
Smooth tapered sheath and dilator tip
---
Product Details
Tailored access solutions
A 4F sheath allows for minimally invasive treatment of patients with complex lower limb disease. BIOTRONIK was the first to offer a portfolio for lower limb treatment through a 4F reinforced introducer sheath, combined with 4F and 0.018" guide wire compatible balloon catheters and self-expanding stent systems1 up to 200 mm in length.
Coil Reinforced Sheath
The polymer embedded stainless steel coil shaft provides
flexibility and resistance to kinking and deformation.
The non-ovaling design combined with the PTFE liner are intended to reduce friction on devices passing
through tight anatomical curves.
The Complete 4 F & 6 F Solutions
The availability of 4F, 5F and 6F reinforced introducer sheaths allow a tailored access approach. The BIOTRONIK 6F Solutions portfolio enables treatment through our 6F reinforced introducer sheath
while utilizing our trusted 6F compatible balloon catheters and self-expanding stent systems3, both up to 200 mm in length.
Hydrophobic Coated Sheath
Easy insertion performance2
attributed to the hydrophobic sheath coating in
combination with the smooth tapered
sheath and dilator tip.
Valve
Premounted removable
hemostatic valve on the 5F
and 6F introducer sheaths.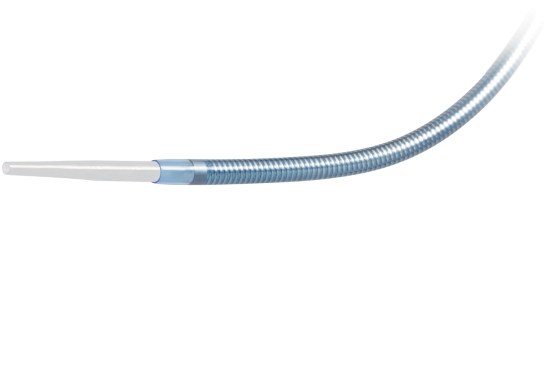 Smooth Tapered Tip and Superb Sheath Tip Visibility
The sheath and dilator have
a smooth tapered tip and an
atraumatic tip designed for ease
of insertion.
Angiographic visibility
The platinum alloy marker band
provides tip radiopacity
under fluoroscopic imaging.
Technical Data
Fortress Introducer Sheath
French size

4F, 5F and 6F

Length

45 and 100 cm

Sheath material

Stainless steel coil reinforced polymer, PTFE liner

Sheath tip

Smooth taper with radiopaque marker band

Sheath shape

Pre-curved 45 cm
Straight 45 and 100 cm

Straight

45 and 100 cm

Sheath coating

Hydrophobic, distal 30 cm (5F and 6F only)

Dilator
Recommended guide wire
0.035"
Tip
Smooth taper with radiopaque filler material
Shape

Pre-curved and straight
Hub

4F: fixed hemostatic valve
5F, 6F: removable hemostatic valve
Side-arm with color coded 3-way stop cock

---
Contact
---
1 CAUTION - Investigational device. Limited by US law to investigational use
2 BIOTRONIK data on file