Image
Passeo-14 PTA Balloon
Image
Passeo-14 PTA Balloon
Image
Passeo-14 PTA Balloon
Image
Passeo-14 PTA Balloon
Passeo-14
PTA BALLOON
---
Indicated for lower limb arteries. Up to 73% faster deflation time1 due to state-of-the-art catheter shaft design that creates a large balloon lumen, facilitating rapid inflation and deflation. A faster approach to treating long lesions.
---
KEY FACTS
Up to 73% faster deflation times2
The only forefront solution offering dedicated pedal sizes
Enhanced crossability
High pushability and flexibility
---
Product Details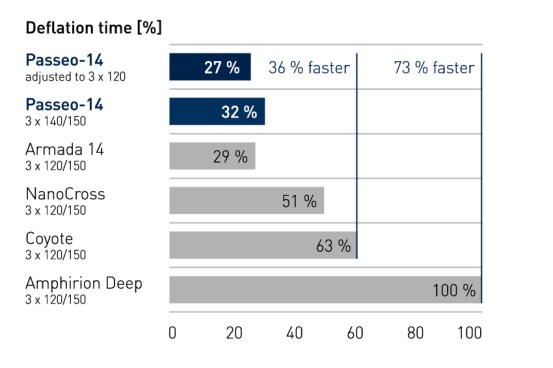 Fast Deflation Times
Passeo-143 deflates:


73% faster than Amphirion Deep
36% faster than Coyote
24% faster than NanoCross
Delivering you the only forefront dedicated pedal design of:
ø 1.5 - 2.0 mm
150 mm flexible distal shaft
tailored stiffening wire
Enhanced Crossability
The tri-fold balloon which is fully coated when folded and only partly coated when inflated enables an enhanced crossability while minimizing slippage during inflation.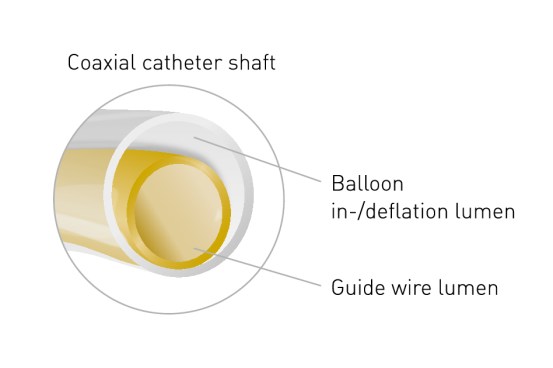 Rapid Deflation Time
A large balloon in-/deflation lumen is being created due to the leading-edge coaxial catheter shaft design. This enables a contrast media solution to be channeled more easily.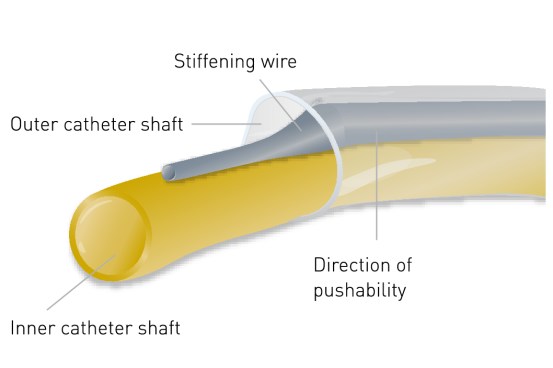 High Pushability and Flexibility4
Impressive pushability delivered by novel catheter shaft design, featuring a unique stiffening wire design in the proximal shaft of the catheter, while also enabling superior flexibility due to a lower profile distal shaft design.
Technical Data
Passeo-14 Balloon catheter
Catheter type

OTW

Recommended guide wire

0.014"

Tip

Optimized entry profile and colored

Balloon material

SCP (semi-crystalline polymer), controlled compliance (4 - 6%)

Balloon folding

3-fold

Balloon coating

Hydrophilic patchwork coating

Balloon markers

2 swaged markers (zero profile)

Sizes

ø 1.5 - 4.0 mm; L: 20 - 220 mm

Distal shaft

3.1 F, hydrophilic coating, coaxial design; 150 mm length (ø 1.5/2.0 x 20 - 100 mm); 75 mm length (ø 2.0 x 140 - 220 mm and ø 2.5 - 4.0 mm)

Proximal shaft

3.9 F, hydrophobic coating, coaxial design; stiffening wire

Usable length

150 cm (ø 1.5 - 4.0 mm); 120 cm (ø 1.5 - 2.0 mm); 90 cm (ø 2.5 - 4.0 mm)

Compliance Chart
Balloon Diameter x Length (mm)
Nominal Pressure
atm5
7
7
7
7
7
7
(NP)
ø (mm)
1.5
2.0
2.5
3.0
3.5
4.0
Rated Burst Pressure
atm5
14
14
14
14
14
14
(RBP)
ø (mm)
1,57
2,08
2,61
3,18
3,63
4,16
---
1. BIOTRONIK data on file (IIB report 65/2012)
2. vs. Amphirion Deep
3. Volume correction: the volume of a 3x120 mm balloon is 15% less than the volume of the 3x140 mm balloon, which can be directly correlated to deflation time. Therefore, the measured deflation time of 32% can be reduced by 15%, resulting in a volume-corrected deflation time of 27%.
4. BIOTRONIK data on file (IIB report 65/2012).
5. 1 atm = 1.013 bar
6. 8 weeks pre-order only