BIOTRONIK Home Monitoring
---
BIOTRONIK Home Monitoring® is a pioneering and award-winning cardiac remote monitoring system. It is the most user-friendly, most clinically actionable cardiac remote monitoring solution available today1. Designed for ease of use and high reliability, BIOTRONIK Home Monitoring automatically collects data from your BIOTRONIK cardiovascular device every night, typically while you are sleeping. The system is capable of detecting and alerting your care team to relevant changes in your cardiac health and the status of your cardiac device.
1DeRuvo E, et al. J Interv Card Electrophysiol. 2015, 45(1).
---
About
How Home Monitoring Works
Setup and Use
Why Home Monitoring?
FAQ
About
Clinically Studied, Proven Effectiveness
The performance of BIOTRONIK Home Monitoring and its clinical effectiveness has been studied in multiple landmark clinical trials. It is the only remote monitoring system for cardiac devices to be approved by the FDA for early detection and the only system approved as a replacement for device interrogation during in-office follow-up.
A Legacy of Innovation
BIOTRONIK was the first to offer:
Daily, automatic wireless remote monitoring across all devices
An easy-to-use patient transmitter with no setup required and no patient interaction needed to complete data transmissions
A mobile transmitter with worldwide cellular connectivity at no charge to the patient
An intelligent "traffic light" system for efficient alert management by clinics
Available for All Devices
BIOTRONIK Home Monitoring provides enhanced efficiency for clinics and peace of mind for patients and is available for all BIOTRONIK devices including:
Cardiac monitors
Pacemakers
Implantable defibrillators
Cardiac resynchronization therapy devices

---

1DeRuvo E, et al. J Interv Card Electrophysiol. 2015, 45(1).
How Home Monitoring Works
Cardiac devices equipped with Home Monitoring have additional memory storage capacity and contain a small antenna for wireless communication with the CardioMessenger – a handheld patient transmitter about the size of a modern smartphone. Home Monitoring has a negligible impact on the longevity of your cardiac device.
The System

The CardioMessenger
Every day, the CardioMessenger automatically collects and transmits data related to your cardiac health and the status of your cardiac device to the BIOTRONIK Home Monitoring Service Center (HMSC) using mobile cellular technology. These data include:
• Device function status
• Battery status
• The status of pacing or defibrillation therapies delivered
• Current and historical heart rhythms including any detected abnormalities
• Overall changes in heart function
The HMSC is a secure, web-based platform where your care team can review your information. Data sent to the HMSC is encrypted to protect your privacy. For more information about the systems used to protect your personal health information, click here.
A Web-Based Monitoring Platform
The transmitted patient and device data are collected, automatically analyzed and filtered at the BIOTRONIK HMSC, according to parameters set by your care team. Health and system-related issues are ranked in order of importance according to the care team defined alert status. Important alerts can be sent immediately to a patient's care team via text message or email. All event and trend reports can be accessed and reviewed through the secure HMSC website.
---
Setup and Use
Setting up BIOTRONIK Home Monitoring is simple and, once it is set up, the system is fully automatic. As a patient, you are not required to take any action for successful daily transmissions to your care team.
Image
Image
You will receive a CardioMessenger device either at the time of your procedure or shortly thereafter in the mail. It is important to follow the instructions given to you at the time of your procedure or refer to the Quick Start Guide included with your CardioMessenger. Together with your physician, you can decide at what time of the day data transmission will take place. Typically these transmissions are scheduled while you sleep.
After returning home after your procedure, please set up the CardioMessenger as soon as possible, preferably the same day. Setup is easy, with just three simple steps.

Step 1: Remove contents from CardioMessenger box
Step 2: Position the CardioMessenger near your bed
(when transmissions are done during the night)
Step 3: Plug the CardioMessenger into a nearby power outlet
Image
After it is plugged in, the CardioMessenger will turn on automatically and performs a self-test. The CardioMessenger is ready for use once the self-test is completed and the following icons are displayed:





If this is not the case, please refer to the CardioMessenger Smart Patient Manual. Both the CardioMessenger Smart Quick Start Guide and the CardioMessenger Smart Patient Manual contain important information concerning the setup and use of your CardioMessenger. Please review each thoroughly.
Image
Your Data and Your Care Team
Your care team will review your data at intervals set by the clinic after discussing these options with you. Your physician will generally review reports only during normal working hours. If you have any questions about how your data is being monitored, please ask your physician or care provider. BIOTRONIK Home Monitoring should only be used as directed by a physician. BIOTRONIK Home Monitoring may be unavailable due to cellular coverage being unavailable in your area. BIOTRONIK Home Monitoring may also be periodically unavailable due to cellular service outages in your area or periodic scheduled maintenance. BIOTRONIK Home Monitoring is not a replacement for emergency care. PLEASE CALL 911 IF YOU ARE HAVING A MEDICAL EMERGENCY.
Image
Why Home Monitoring?
Remote patient management with Home Monitoring offers you the opportunity to benefit from intelligent, event-driven care that improves clinical outcomes without the inconveniences of calendar-based in-clinic follow ups. BIOTRONIK Home Monitoring can be used to decrease the frequency of in-office follow-ups, which saves you traveling time and expenses.
Studies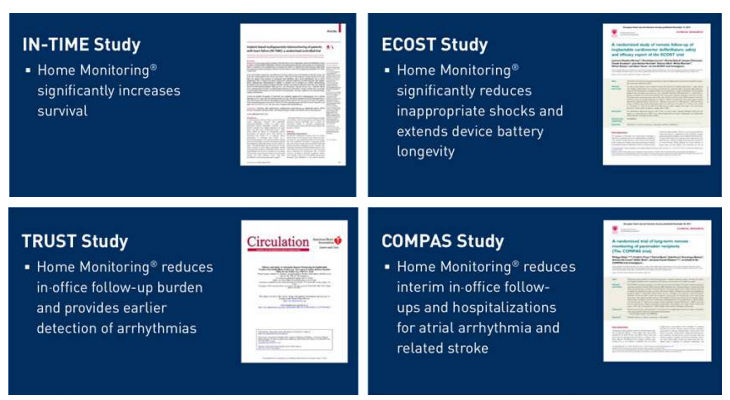 Improved Patient Outcomes
More than 3,500 patients have been involved in clinical studies of BIOTRONIK Home Monitoring. These studies demonstrate that Home Monitoring significantly improves clinical outcomes and survival compared to traditional periodic, in-person device follow-up.
The IN-TIME study, one of the largest and most recent studies to examine heart failure and remote monitoring, demonstrated a 50% decrease in mortality for patients using BIOTRONIK Home Monitoring.

Home Monitoring also has been shown to reduce:
Hospitalizations caused by atrial arrhythmias or strokes by 66% (COMPAS)
In-office visits by 45% (TRUST)
Inappropriate shock delivery for ICD/CRT patients by 52% (ECOST)
Early Detection
Image
BIOTRONIK Home Monitoring provides early detection of arrhythmias, including silent, asymptomatic arrhythmias, allowing for earlier intervention (TRUST, COMPAS).
Being monitored daily allows earlier detection for:
Changes in your heart status you may not notice yourself
Early signs of worsening heart status which could escalate without treatment
The Benefits of Home Monitoring
Historically, patient care guidelines recommended in-person appointments for device patients every three to six months, a time consuming and resource intensive effort for patients and healthcare providers. But a lot can happen medically for a cardiac device patient in six months. This valuable clinical data could help guide care and possibly prevent hospitalization or even death. BIOTRONIK Home Monitoring allows follow-up appointments to be catered to you, so that your data is reviewed as necessary, rather than only on a pre-set schedule. You can rest easy knowing that you are being monitored and your care team can be confident that they will be notified of clinically relevant device events in between your in-person visits.
FAQ
Is the data transmission secure?
Yes, the transmission is secure. Data is transmitted as an encrypted medical message and is only accessible via a secure, password-protected website.
Who can access my data?
Only your doctor, or persons authorized by your physician, are able to access your data and will be alerted if something unusual is detected.
Do I need to recharge my CardioMessenger?
If you use CardioMessenger Smart, you'll need to charge it just like you would charge a cell phone. A fully charged mobile CardioMessenger Smart lasts for up to 48 hours before you need to recharge it. To recharge it, just plug it into the power adapter; it will recharge automatically.
Will the transmitter interfere with my cell phone?
No, the transmitter will not interfere with your cell phone.
What happens if my CardioMessenger loses cell phone connection?
You will probably not notice if your CardioMessenger loses cell phone connection. If it does, it's not a problem; as soon as the cell phone network is available again, your CardioMessenger will reestablish the connection.
What happens if I forget to take my CardioMessenger with me?
From a technical point of view, it's not a problem; your CardioMessenger Smart will operate as usual as soon as you come back. But if your doctor instructs you to carry your CardioMessenger Smart with you the whole day, please make sure you do so. If you forget to take your CardioMessenger Smart with you while traveling, for instance, you should call your doctor right away, because after a few days he or she will receive a notification that there is no data being transmitted anymore.
Can I travel with my CardioMessenger Smart?
Yes. Traveling with your CardioMessenger Smart is fine, and BIOTRONIK Home Monitoring® works in more than 160 countries – nearly anywhere there is cell phone service. But as a person with an implanted pacemaker, defibrillator, cardiac resynchronization device, or insertable cardiac monitor, you should always discuss your travel plans in advance with your doctor – especially if you are traveling out of the country or will be traveling for extended periods of time. In addition, if you are traveling outside of your home time zone, your doctor may want to reset when your daily report is sent via BIOTRONIK Home Monitoring. Your CardioMessenger Smart will not be damaged by airport security devices. Similar to your mobile phone, be sure to turn it off while on an airplane.
What should I do if I'm experiencing certain symptoms such as a dizzy spell, heart racing, strange sensations or similar symptoms?
If you feel that you are having a medical emergency, please seek immediate medical attention by calling 911 or the emergency services number in your area. if you experience symptoms that you feel are not serious, simply note the date and time when you experienced them and call your doctor's office. He or she may be able to access information from BIOTRONIK Home Monitoring to help assess what is happening with your heart and your implantable device.
Resources
BIOTRONIK Home Monitoring Patient Guide
CardioMessenger Smart Quick Start Guide
---
1 DeRuvo E, et al. J Interv Card Electrophysiol. 2015, 45(1).