IN-TIME
Influence of Home Monitoring on the Clinical Status of Heart Failure Patients
Hindricks et al., The Lancet 2014
Conclusion
Home Monitoring reduces risk of worsened patients status and all-cause mortality for heart failure patients.
Inclusion Criteria
Indication for single chamber ICD, dual chamber ICD or CRT-D Chronic heart failure (≥ 3 months) NYHA Class II or III for 1 month prior to screening LVEF ≤ 35% within 3 months prior to screening Indication for therapy with diuretics Patient informed consent 18 years and older
Exclusion Criteria
Permanent atrial fibrillation Uncontrolled hypertension NYHA class I or IV Life expectancy < 1 year Restrictive, infiltrative or hypertrophic cardiomyopathy, constrictive pericarditis, acute myocarditis Etc.
---
Study Design
Randomized, controlled, international, multicenter study
Assesses the impact of BIOTRONIK Home Monitoring® on the clinical status of heart failure patients
664 patients at 36 centers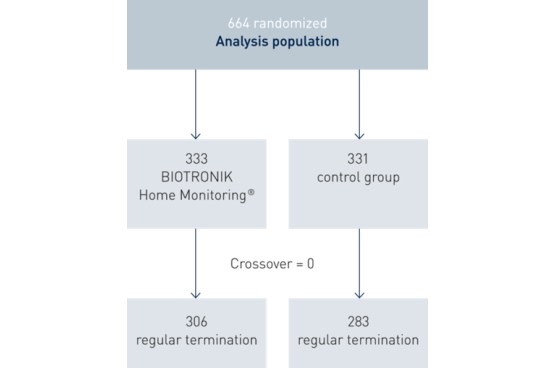 Flowchart
Study duration: July 2007 – December 2010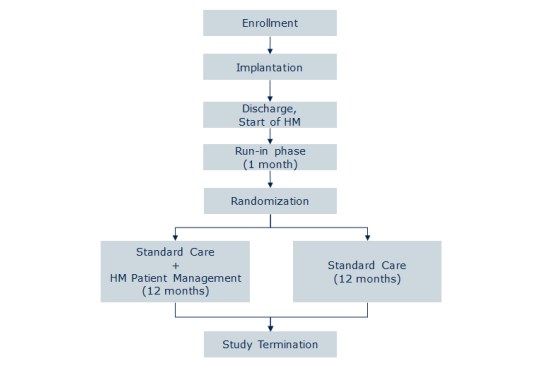 ---
Key Result 1
At 12 months follow-up, significantly fewer patients in the BIOTRONIK Home Monitoring® group worsened according to the modified Packer score compared to the control group (18.9% vs27.5%; p<0.05).
Modified Packer Score
Patients are classified as "worsened" in case of:
Death


Overnight hospitalization for worsening heart
failure


Worsening in NYHA Class


Deterioration in patient's global self assessment
---
Key Result 2
Significant reduction of all-cause mortality in heart failure patients (> 50 %) and beneficial effect on the composite clinical score with implant-based (ICD or CRT-D) BIOTRONIK Home Monitoring® compared to standard care.
>50% Reduction of Mortality
---
Clinical Relevance
The IN-TIME study demonstrated improved clinical status for heart failure patients by implementing a remote monitoring system based on:
A reliable transmission rate of 85%
Clinical workflow that enables fast patient contact and follow-up within one to two working days
The European Society of Cardiology added a clear recommendation for the use of implant-based remote follow-up to its guidelines1
A clinically relevant set of rhythmological and technical parameters
---
| | |
| --- | --- |
| Reference no. | |
| Principal Investigators | Prof. Dr. Gerhard Hindricks, Herzzentrum Leipzig, Germany |
---
Download Section
---
Related Products
CARDIAC RESYNCHRONIZATION THERAPY
BIOTRONIK offers an extensive product portfolio in the area of Cardiac Resynchronization.
CARDIAC REMOTE MONITORING
BIOTRONIK offers Home Monitoring for its complete product portfolio.
---
1 Brignole M et al. 2013 ESC Guidelines on Cardiac Pacing and Cardiac Resynchronization Therapy. European Heart Journal. 2013, 34(29).