Vascular Intervention // Coronary
Drug-Coated Balloon Catheter

Pantera Lux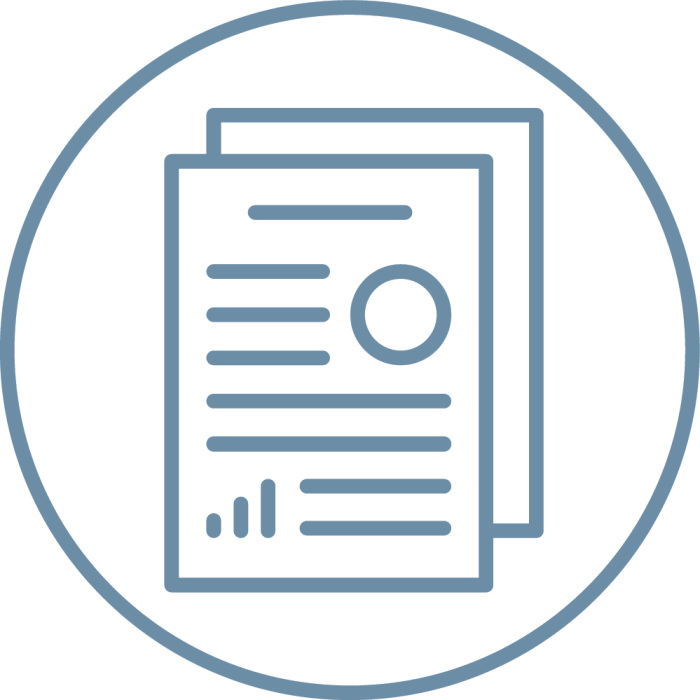 Download brochure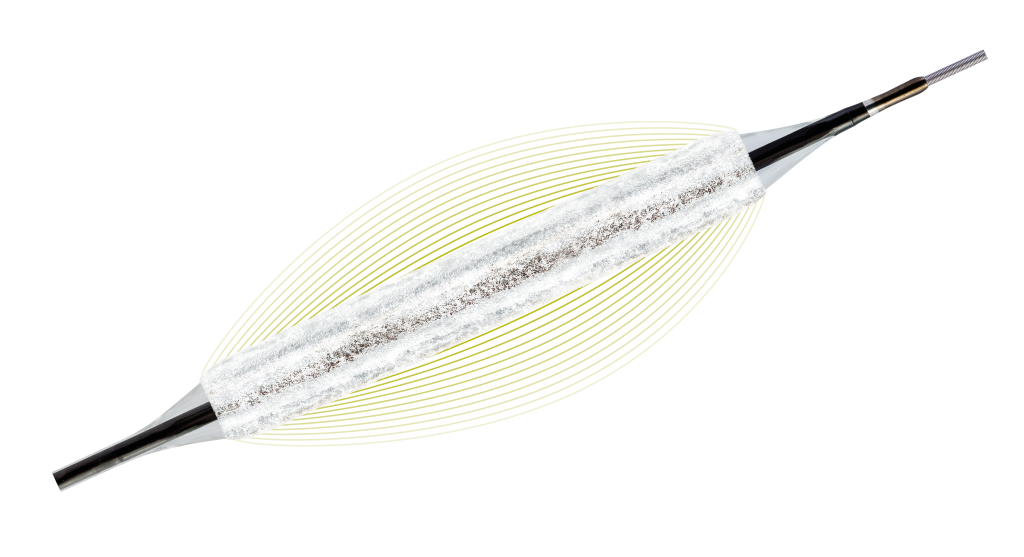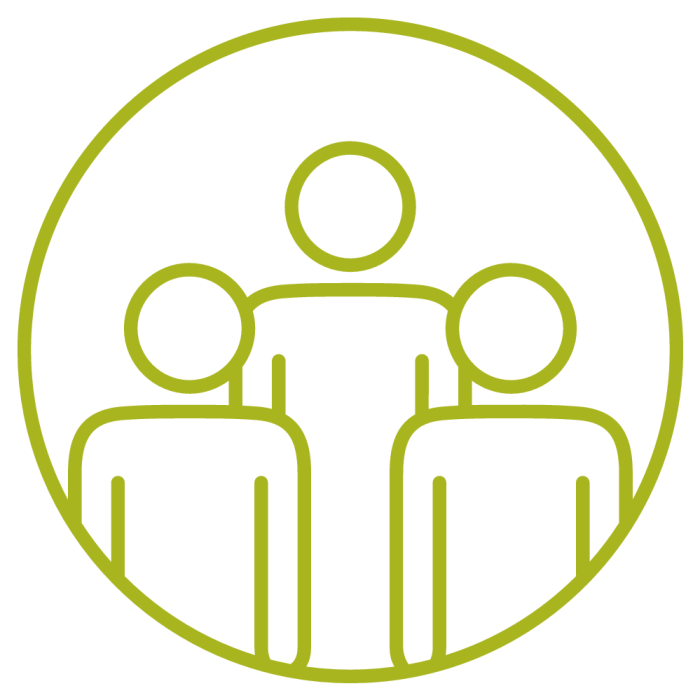 Clinically proven solution for in-stent restenosis and de novo lesions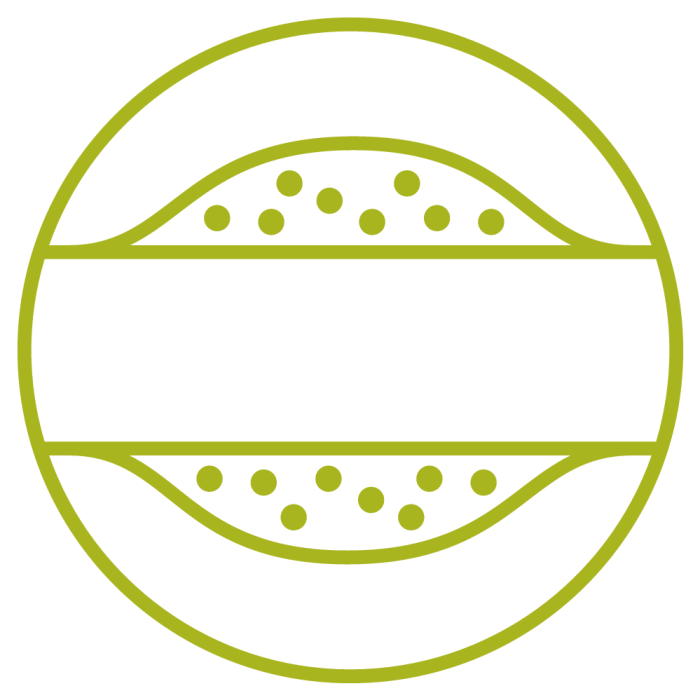 Lux coating technology for rapid drug absorption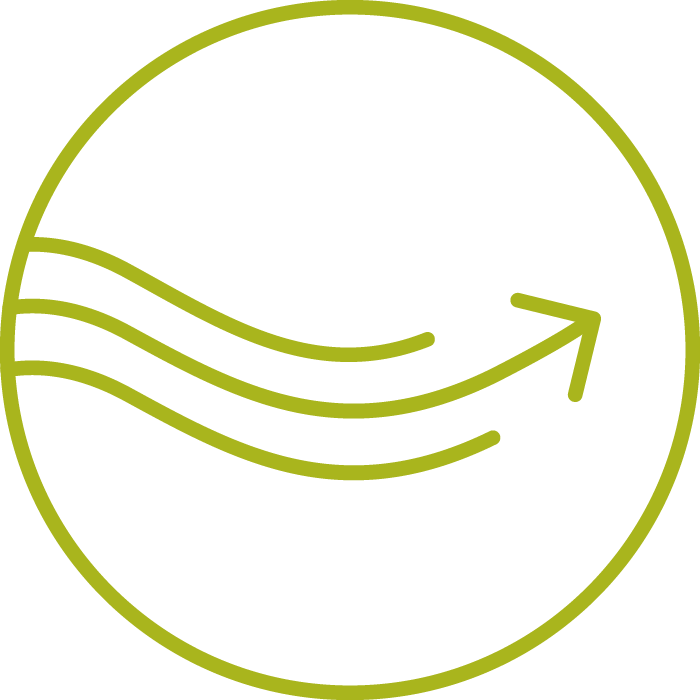 Advanced trackability
---
Clinically proven solution for in-stent restenosis and de novo lesions
Clinical outcomes from multiple studies1-8 including randomized controlled trials like BIOLUX RCT, ISAR-DESIRE 4 and PEBSI show high efficacy and safety for both in-stent restenosis and de novo lesions.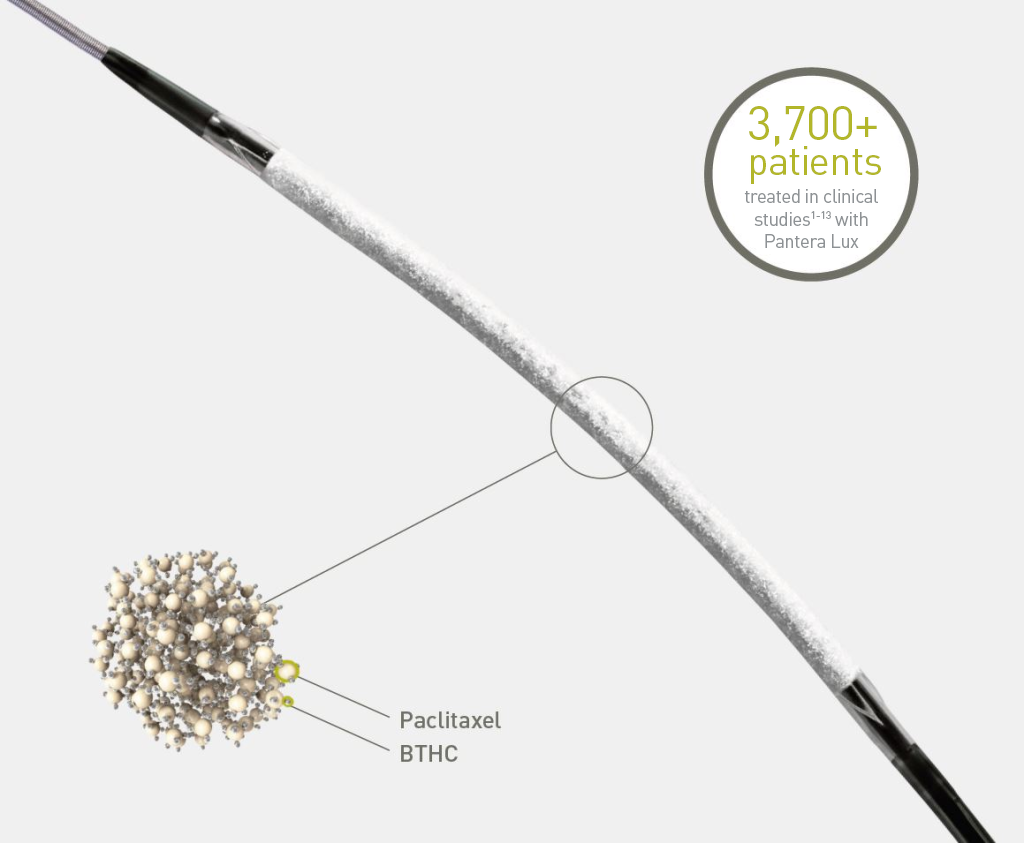 Lux coating technology for rapid drug absorption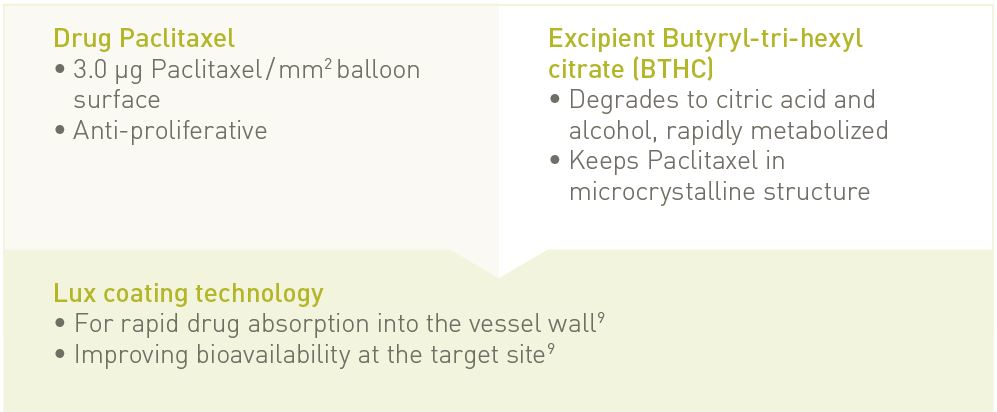 Prolonged tissue retention at the target site9, 10

Pig coronary artery Paclitaxel tissue concentrations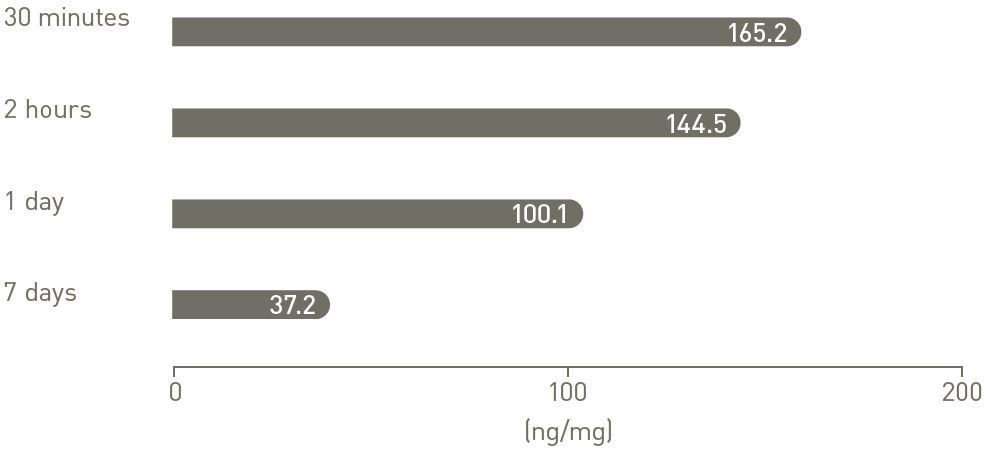 ---
Advanced trackability
Pantera Lux, with its low crossing profile, provides advanced trackability to successfully reach and treat most cases in daily practice.


---
Low crossing profile 11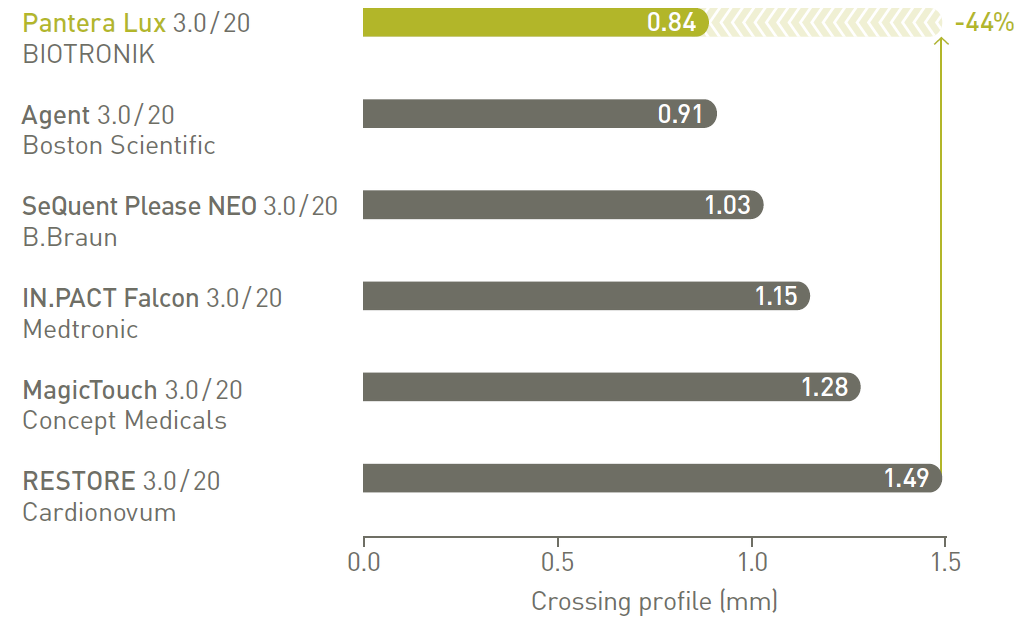 ---
Low track force11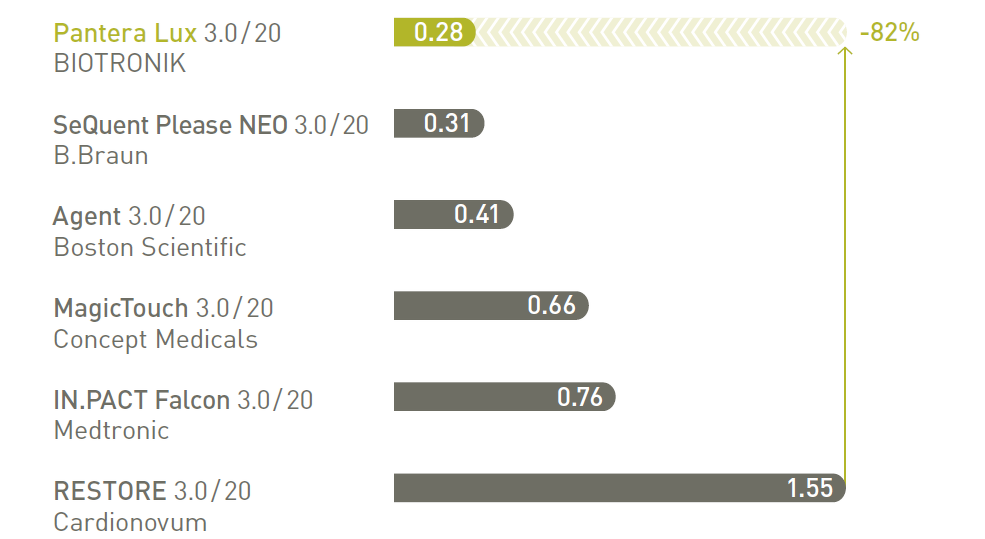 ---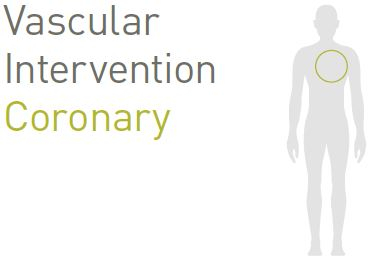 Pantera Lux
Indicated for balloon dilatation for in-stent restenosis, de-novo lesions, acute or impending vascular occlusion and treatment of small vessel disease.*
Technical Data
Drug-Coated Balloon Catheter
Catheter type

Fast-exchange PTCA balloon catheter
Recommended guide catheter
5F (min. I.D. 0.056")

Lesion entry profile

0.017"

Guide wire diameter

0.014"

Usable catheter length

140 cm

Balloon folding

3-fold

Ballon markers
Two embedded platinum-iridium markers
Brachial shaft marker
92 cm from tip

Femoral shaft marker

102 cm from tip
Proximal shaft diameter

2.0 F
Distal shaft diameter
2.5 F (ø 2.0 - 3.5 mm), 2.6F (ø 4.0 mm)
Nominal Pressure (NP)
7 atm

Rated Burst Pressure (RBP)
13 atm (ø 2.0 - 3.5 mm); 12 atm (ø 4.0 mm)
Coating
Drug
Paclitaxel
Drug dose
3.0 μg/mm²
Delivery matrix
Paclitaxel and Butyryl-tri-hexyl citrate (BTHC)
Coated area
Cylindrical section of the balloon, exceeding the proximal and distal markers
Compliance Chart
Balloon Diameter x Length (mm)
ø 2.0 x
10-30
ø 2.5 x
10-30
ø 3.0 ×
10-30
ø 3.5 ×
10-30
ø 4.0 ×
10-30
Nominal Pressure
atm5
7
7
7
7
7
(NP)
ø (mm)
2.00
2.50
3.00
3.50
4.00
Rated Burst Pressure
atm5
13
13
13
13
12
(RBP)
ø (mm)
2.26
2.82
3.48
4.11
4.59
**1 atm = 1.013 bar
---
Contact
---
1 Hehrlein C. et al. Cardiovasc. Revasc. Med. 2012 Sep; 13(5): 260-4;
2 Toelg R. et al. EuroIntervention 2014 Sep; 10(5): 591-9;
3 Naber C.K. EuroPCR 2016. oral presentation. BIOLUX RCT Clinical performance of the Pantera Lux Paclitaxel coated balloon vs. drug-eluting Orsiro hybrid stent system in patients with in-stent restenosis: a randomized controlled trial;
4 Kufner et al. J Am Coll Cardiol Intv 2017;10: 1332 -40, Clinical trials.gov, NCT01632371;
5 Garcia-Touchard et al. EuroIntervention. 2017 Jan 20;12(13):1587-1594. NCT01839890;
6 Vos N. S. et al. Vos N. S. et al. EuroIntervention 2014;10:584-590;
7 Jim M. H. AsiaPCR 2014, oral presentation, Six-month Angiographic Restudy of Paclitaxel-Eluting balloon kissing in Dealing with side branch Ostial Narrowing (SARPEDON);
8 Worthley S. et al. Cardiovasc. Revasc. Med. 2015; 16: 413-417;
9 Radke P. et al. EuroIntervention. 2011 Oct; 7(6): 730-7;
10 BIOTRONIK data on file;
11 BIOTRONIK data on file, compared to main competitors.
SeQuent is a registered trademark of the B. Braun Group of Companies; ELUTAX is a registered trademark of Aachen Resonance; IN.PACT is a registered trademark of the Medtronic Group of Companies; DIOR is a registered trademark of Eurocor.
*Indication as per IFU (may differ in countries not accepting CE mark).