Image
Passeo-18 Lux Drug-Coated Balloon
Image
Passeo-18 Lux Drug-Coated Balloon
Image
Passeo-18 Lux Drug-Coated Balloon
Image
Passeo-18 Lux Drug-Coated Balloon
Passeo-18 Lux
DRUG-COATED BALLOON
---
Indicated for lower limb arteries. The Passeo-18 Lux drug-coated balloon - an advanced therapy to expand conventional PAD treatment options - proven to inhibit restenosis while maintaining a high safety profile.
---
KEY FACTS
Clinically proven to reduce restenosis and the need for reinterventions1
Lux coating technology optimizes drug transfer for maximized efficacy
Low profile, highly deliverable Passeo-18 balloon platform
Innovative SafeGuard insertion aid for unrivaled safety and ease of handling
---
Product Details
Safe and Effective
Robust, high-quality clinical data demonstrate Passeo-18 Lux safety and efficacy in the treatment of femoropopliteal and infrapopliteal arteries.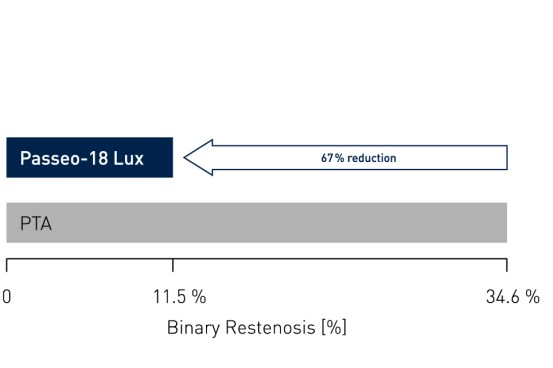 BIOLUX P-I2,3 Femoropopliteal Indication
6-month Binary Restenosis:
Passeo-18 Lux significantly reduced Binary Restenosis compared to the control PTA balloon (p = 0.048*).

*p < 0.05 is significant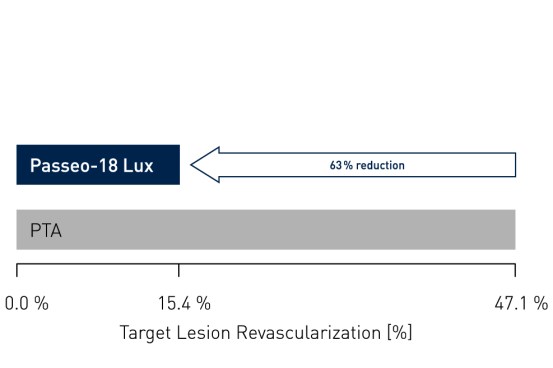 12-month Target Lesion Revascularization4:
Passeo-18 Lux significantly reduced Target Lesion Revascularization rates compared to the control PTA balloon (p = 0.020*).

*p < 0.05 is significant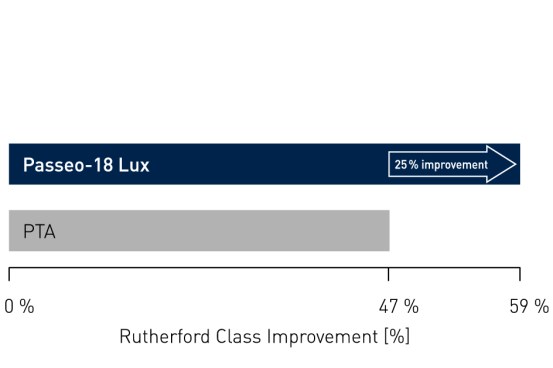 BIOLUX P-II3, 5 Infrapopliteal Indication
6-month change in Rutherford Class:
Passeo-18 Lux improved Rutherford Class compared to the control PTA balloon.
12-month Major Amputation:
Passeo-18 Lux Major Amputation rate was lower compared to the control PTA balloon. In the DCB group, it was 3.3 % at 6 months and no additional amputation occurred after 180 days.
Optimized Coating Formulation
The Lux coating technology provides an optimal delivery mechanism, ensuring minimal drug loss during tracking and inflation, rapid drug transfer to the vessel wall and a sustained therapeutic effect.6
Drug: 3 μg/mm2 paclitaxel anti-proliferative agent
Excipient: butyryl-tri-hexyl citrate (BTHC) hydrophobic carrier improves coating integrity so that more drug is available at the lesion site. Safe and biocompatible.
Coating process: homogeneous balloon coating shelters drug within the balloon folds and ensures drug transfer to the entire region treated.
Low Profile Delivery Platform
Passeo-18 Lux is part of BIOTRONIK 4F solutions. It is based on the Passeo-18 low profile balloon platform, thus minimizing the risk of access site complications7 and improving lesion crossing performance.
SafeGuard – Improved and Safer Handling
SafeGuard insertion aid improves ease of handling and protects the user and balloon coating from contact and damage. It is pre-mounted on the balloon and after use, it can simply be peeled away.
BIOLUX P-I
Prospective, multi-center, 1:1 randomized, controlled trial enrolling 60 patients at five clinical sites in Germany and Austria.
Number of patients (n): 60
Primary endpoint: 6-month LLL in target lesion measured by quantitative vascular angiography (QVA) by an independent corelab
BIOLUX P-II
Prospective, multi-center, randomized controlled, first-in-human study
Number of patients (n): 72
Primary endpoint: 30-day MAE rate2, 6-month TLP measured by quantitative vascular angiography (QVA)
DEBAS
Prospective, multi-center, investigator-initiated registry to evaluate the implantation outcome of the Pulsar-18 stent followed by Passeo-18 Lux DCB in the femoropopliteal arteries.
Number of patients (n): 65 (12-month data available on n 51)
Primary endpoint: PP at 12 and 24 months, defined as a binary duplex ultrasound ratio PSVR <2.5 at the stented target lesion with no clinically-driven reintervention within the stented segment.
Technical Data
Passeo-18 Lux
Catheter type

OTW

Recommended guide wire

0.018"

Tip

Short, tapered

Balloon markers

2 swaged markers (zero profile)

Shaft

3.8 F, hydrophobic coated

Usable length

90, 130 cm; 150 cm (only ø 2.0 mm)

Introducer size

4 F (ø 2.0 - 4.0 mm); 5F (ø 5.0 - 7.0 mm)

Nominal Pressure (NP)

6 atm

Rated Burst Pressure (RBP)

15 atm (ø 2.0 - 5.0 mm); 12 atm (ø 6.0 - 7.0 mm)

Drug Coating

Paclitaxel

Drug concentration

3.0 μg/mm2
Coating matrix

Paclitaxel and butyryl-tri-hexyl citrate (BTHC)

Coated area

Cylindrical section of the balloon, exceeding the proximal and distal markers

Compliance Chart
Balloon Diameter x Length (mm)
Nominal Pressure
atm8
6
6
6
6
6
6
6
(NP)
ø (mm)
2.0
2.5
3.0
4.0
5.0
6.0
7.0
Rated Burst Pressure
atm8
15
15
15
15
15
12
12
(RBP)
ø (mm)
2.1
2.6
3.3
4.3
5.2
6.3
7.2
---
Contact
---
1 BIOLUX P-I and BIOLUX P-II Randomized Clinical Trials
2 Scheinert D, et al. BIOLUX P-I. JEVT. 2015; 22(1): 14-21.
3 Selected endpoints
4 As-Treated population
5 Zeller et al. BIOLUX P-II. J Am Coll Cardiol Intv. 2015; 8: 1614-22.
6 Pre-clinical data on file at BIOTRONIK AG
7 Bosiers M, et al. 4-French–Compatible Endovascular Material Is Safe and Effective in the Treatment of Femoropopliteal Occlusive Disease. Results of the 4EVER Trial. J Endovasc Ther. 2013; 20(6): 746-756.
8 1 atm = 1.013 bar