Image
Passeo-14 PTA Balloon
Image
Passeo-14 PTA Balloon
Image
Passeo-14 PTA Balloon
Image
Passeo-14 PTA Balloon
Passeo

®

-14
PTA Balloon/0.014"/OTW
---
Indicated for balloon dilatation of the stenotic portion of a lower limb artery for the purpose of improving perfusion.
---
Key Facts
Up to 73% faster deflation times1
Offering dedicated pedal sizes
Patchwork coating designed to facilitate crossing
High pushability and flexibility
---
Product Details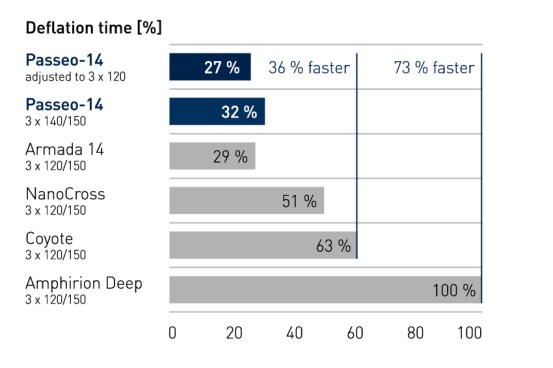 Fast Deflation Times
Passeo-143 deflates:


73% faster than Amphirion Deep
36% faster than Coyote
24% faster than NanoCross
Patchwork coating designed to facilitate crossing
The tri-fold balloon that is hydrophilically coated in a folded state,
exposing uncoated balloon sections when inflated. This is intended to facilitate crossing while
minimizing slippage during inflation.
Rapid Deflation Time
A large balloon inflation/deflation lumen is possible because of its coaxial catheter shaft design. The large lumen enables contrast media solution to flow more quickly to and from the balloon.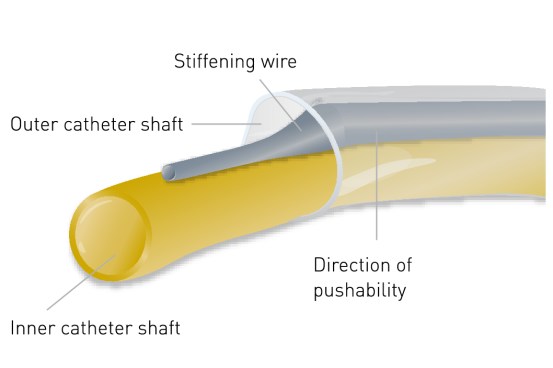 High Pushability and Flexibility4
Pushability is made possible by the novel catheter shaft design,
which features a unique stiffening wire in the proximal shaft of the catheter. This is combined with a low profile distal shaft designed for flexibility in small, tortuous vessels.
Technical Data
Passeo-14 Balloon catheter
Catheter type

OTW

Recommended guide wire

0.014"

Tip

Optimized entry profile and colored

Balloon material

SCP (semi-crystalline polymer), controlled compliance (4 - 6%)

Balloon folding

3-fold

Balloon coating

Hydrophilic patchwork coating

Balloon markers

2 swaged markers (zero profile)

Sizes

ø 1.5 - 4.0 mm; L: 20 - 220 mm

Distal shaft

3.1 F, hydrophilic coating, coaxial design; 150 mm length (ø 1.5/2.0 x 20 - 100 mm); 75 mm length (ø 2.0 x 140 - 220 mm and ø 2.5 - 4.0 mm)

Proximal shaft

3.9 F, hydrophobic coating, coaxial design; stiffening wire

Usable length

150 cm (ø 1.5 - 4.0 mm); 120 cm (ø 1.5 - 2.0 mm); 90 cm (ø 2.5 - 4.0 mm)

Compliance Chart
Balloon Diameter x Length (mm)
Nominal Pressure
atm5
7
7
7
7
7
7
(NP)
ø (mm)
1.5
2.0
2.5
3.0
3.5
4.0
Rated Burst Pressure
atm5
14
14
14
14
14
14
(RBP)
ø (mm)
1,57
2,08
2,61
3,18
3,63
4,16
---
Contact
---
1 BIOTRONIK data on file (IIB report 65/2012)
2 vs. Amphirion Deep
3 Volume adjustment: a 3x120 mm contains 15% less contrast media volume of the 3x140 mm balloon. The measured deflation time of a 3mm x 140 mm balloon was adjusted by 15% to make a direct comparison. Therefore, the measured deflation time of 32% can be reduced by 15%, resulting in a volume-corrected deflation time of 27%.
4 1 atm = 1.013 bar
5 8 weeks pre-order only