Image
PTA Balloon/0.035"/OTW
Image
PTA Balloon/0.035"/OTW
Image
PTA Balloon/0.035"/OTW
Image
PTA Balloon/0.035"/OTW
Passeo

®

-35
PTA Balloon
---
Indicated to dilate stenosis in the renal, iliac, femoral, popliteal and infrapopliteal arteries and for the treatment of obstructive lesions of native or synthetic arteriovenous dialysis fistulae.
---
Key Facts
Low profile, wide range: ø 3 - 10 mm and up to 200 mm balloon length
Semi-crystalline polymer (SCP) designed for puncture resistance
Patchwork coating designed to facilitate crossing
---
Product Details
Low Profile, Wide Size Range
Passeo-35 features a low profile design for 5F and 6F sheath compatibility, a wide range of balloon diameters (3-10 mm) and lengths up to 200 mm.
Semi-Crystalline Polymer (SCP) Balloon Material
SCP balloon material designed for puncture resistance. A robustly engineered balloon that provides
effective dilation.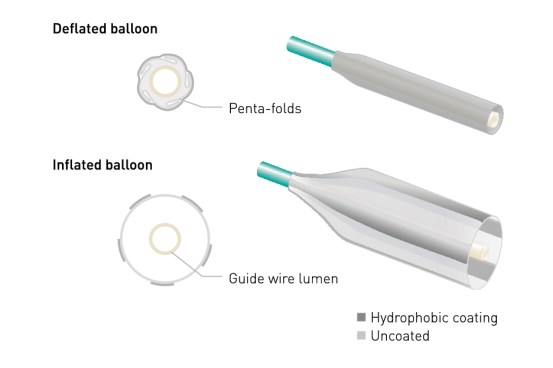 Patchwork Balloon Coating
The penta-fold balloon is
coated in a folded state, exposing uncoated sections when inflated. This is intended to facilitate crossing while minimizing slippage during inflation.
Shaft Design
While in the vessel, the 5F shaft allows flush capability and angiographic quality when inserted through a 6F sheath.
Technical Data
Balloon Catheter
Catheter type
OTW
Recommended guide wire
0.035"
Tip
Soft, short, tapered, colored
Balloon material
SCP (semi-crystalline polymer), controlled compliance
Balloon folding
5-fold
Balloon coating
Hydrophobic patchwork coating
Balloon markers
2 swaged markers
Sizes
ø 3.0 - 10.0 mm; L: 20 - 200 mm
Shaft
5 F, hydrophobic coating, dual-lumen
Usable length
80, 90 and 130 cm
Guide wire lumen
Hydrophobic coating
Compliance Chart
Balloon Diameter x Length (mm)
Nominal Pressure
atm1
7
7
7
7
7
7
7
7
7
7
7
7
7
7
(NP)
ø (mm)
3.0
3.0
4.0
4.0
5.0
5.0
6.0
6.0
7.0
7.0
8.0
9.0
10.0
10.0
Rated Burst Pressure
atm1
20
20
20
18
16
16
16
16
14
14
14
12
12
11
(RBP)
ø (mm)
3.5
3.2
4.5
4.32
5.7
5.3
6.7
6.4
7.7
7.3
8.7
9.4
10.5
10.3
---
---