Image
Passeo-35 HP High Pressure PTA Balloon
Image
Passeo-35 HP High Pressure PTA Balloon
Image
Passeo-35 HP High Pressure PTA Balloon
Image
Passeo-35 HP High Pressure PTA Balloon
Passeo

®

-35 HP
High Pressure PTA Balloon/0.035"/OTW
---
Indicated for use in percutaneous transluminal angioplasty of the femoral, iliac and renal arteries, and for the treatment of obstructive lesions of native or synthetic arterio-venous dialysis fistulae. Arterio-venous Dialysis Fistulae commonly require high pressure dilatation1 due to fibrotic-like morphology of these hemodialysis shunts.
---
Key Facts
Up to 27 atm to dilate resistant lesions in complex anatomy
96% success rate dilating arterio-venous dialysis fistulae2
Coaxial catheter shaft designed for flexibility and rapid balloon deflation
Flexible and conformable to minimize vessel straightening
---
Product Details
Secure High-Pressure Fitting
One-piece molded hub strong enough to withstand up to 45 atm.3 (Warning: never inflate balloon above recommened RBP)
Coaxial catheter shaft design
Coaxial catheter shaft is designed to offer advanced flexibility at high strength while supporting rapid balloon deflation. The coaxial design allows for a large lumen to enable contrast media solution to flow more quickly to and from the balloon.
Easy Re-Insertion
Balloon re-wrap tool, pre-loaded on shaft facilitating re-insertion through sheath during the procedure.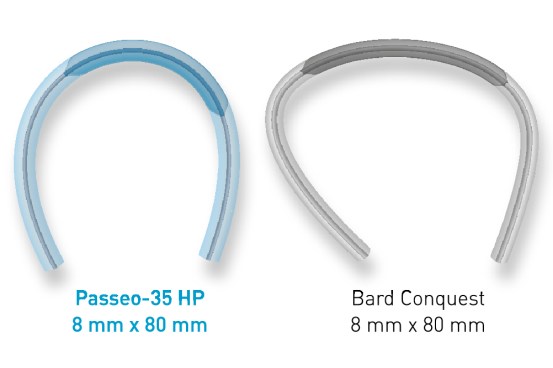 Minimizing Vessel Straightening
Proprietary balloon technology designed for conformability and flexibility, delivering a vessel-friendly solution with an impressively high RBP of up to 27 atm, dilating resistant lesions in complex anatomies. Image shows a deployed balloon in silicone tubing.4
Precise Positioning
Two radiopaque markers at balloon shoulders enable precise balloon positioning.
Technical Data
Passeo-35 HP Balloon Catheter
Catheter type

OTW

Recommended guide wire

0.035"

Tip

Soft, short, tapered

Balloon material

Nylon/pebax, controlled compliance

Balloon folding

3-fold (ø 3.0 - 9.0 mm); 5-fold (ø 10.0 - 12.0 mm)

Balloon markers

2 radiopaque markers

Sizes

ø 3.0 - 12.0 mm; L: 20 - 100 mm

Shaft

5.9 F, coaxial

Usable length

40 and 75 cm

Compliance Chart
Balloon Diameter x Length (mm)
Nominal Pressure
atm5
14
14
14
14
14
14
12
12
12
(NP)
ø (mm)
3.11
4.01
5.01
6.05
6.93
7.98
8.96
10.02
11.86
Rated Burst Pressure
atm5
27
27
27
25
23
22
20
20
18
(RBP)
ø (mm)
3.42
4.41
5.46
6.56
7.45
8.5
9.66
10.78
12.41
---
Contact
---
1 Prospective study of balloon inflation pressures and other technical aspects of hemodialysis access angioplasty. Trerotola SO, Kwak A, Clark TW, et al. J Vasc Interv Radiol. 2005 Dec; 16(12): 1613-8.
2 Successful dilatation defined as full balloon dilation during treatment, BIOTRONIK data on file (PME report, 2013).
3 Refer to compliance chart for RBP.
4 Data on file at Creagh Medical.
5 1 atm = 1.013 bar; NP = normal pressure; RBP = rated burst pressure