Vascular Intervention // Coronary
Resorbable Magnesium Scaffold (RMS)

Magmaris®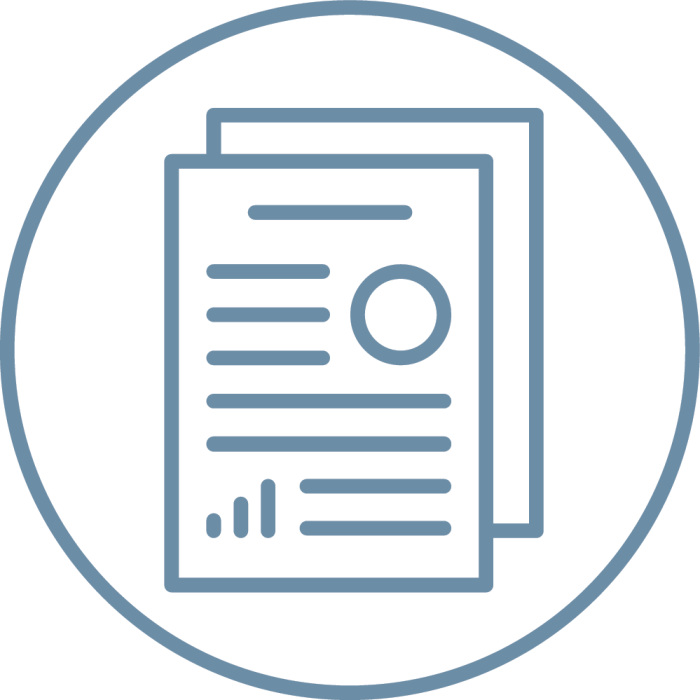 Download brochure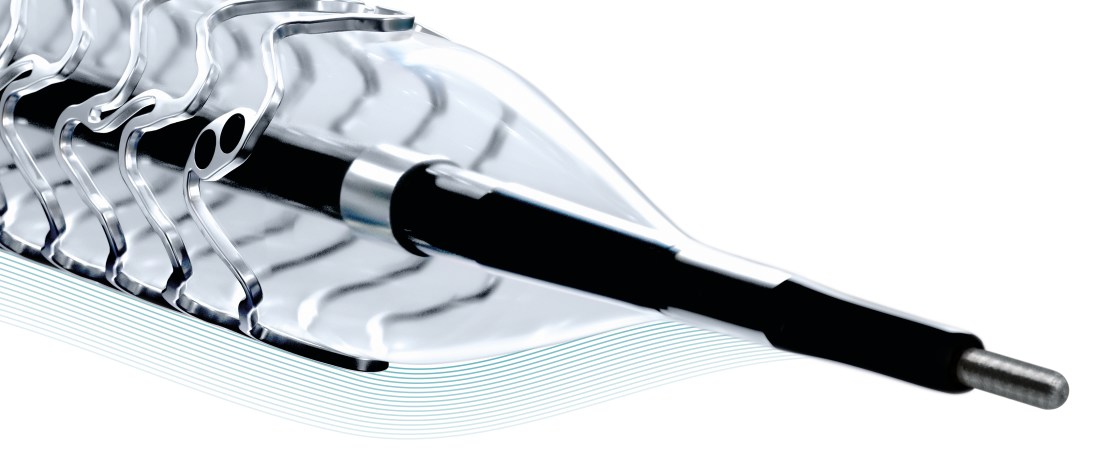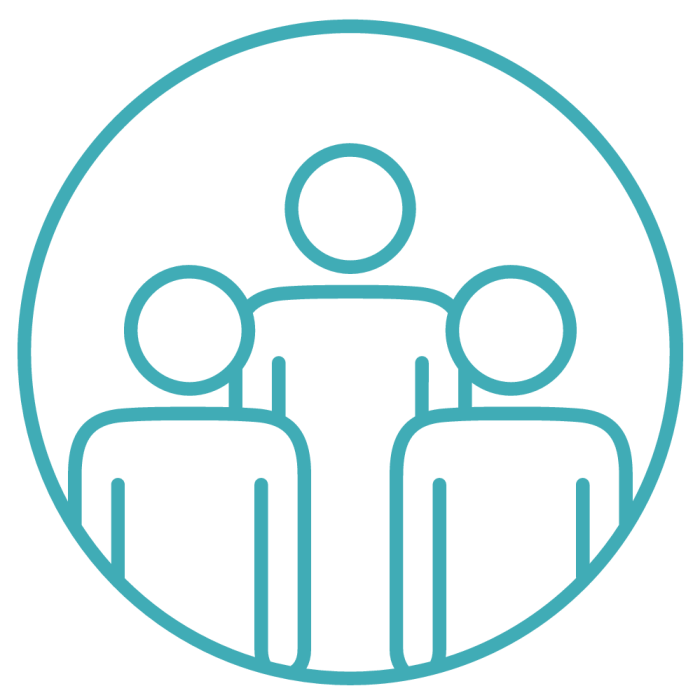 Compelling safety data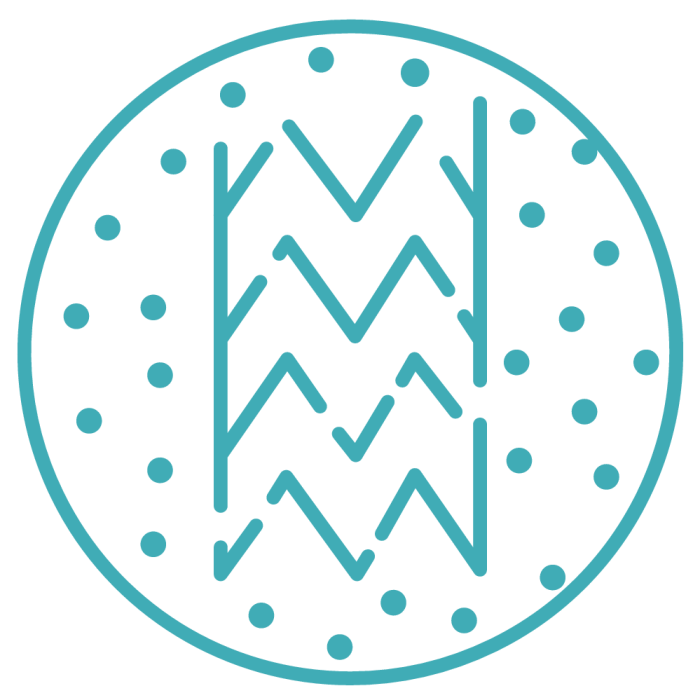 Fast Magnesium resorption time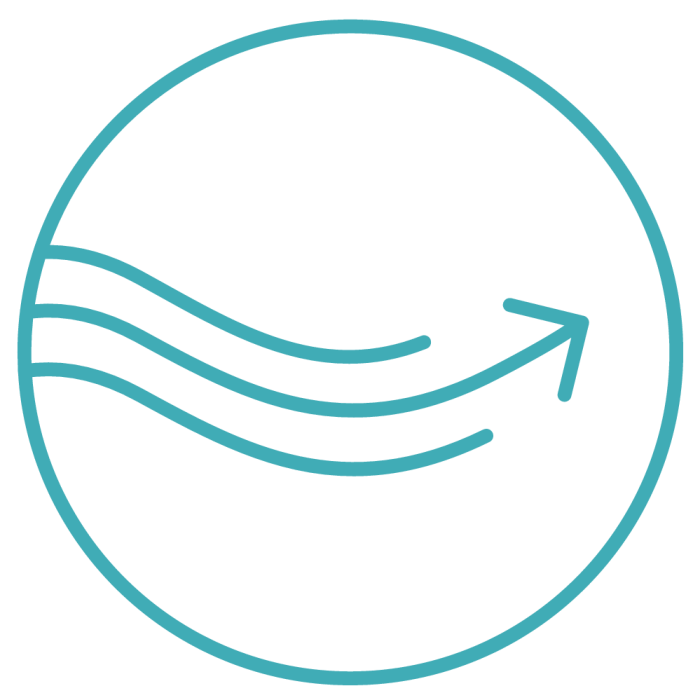 Better deliverability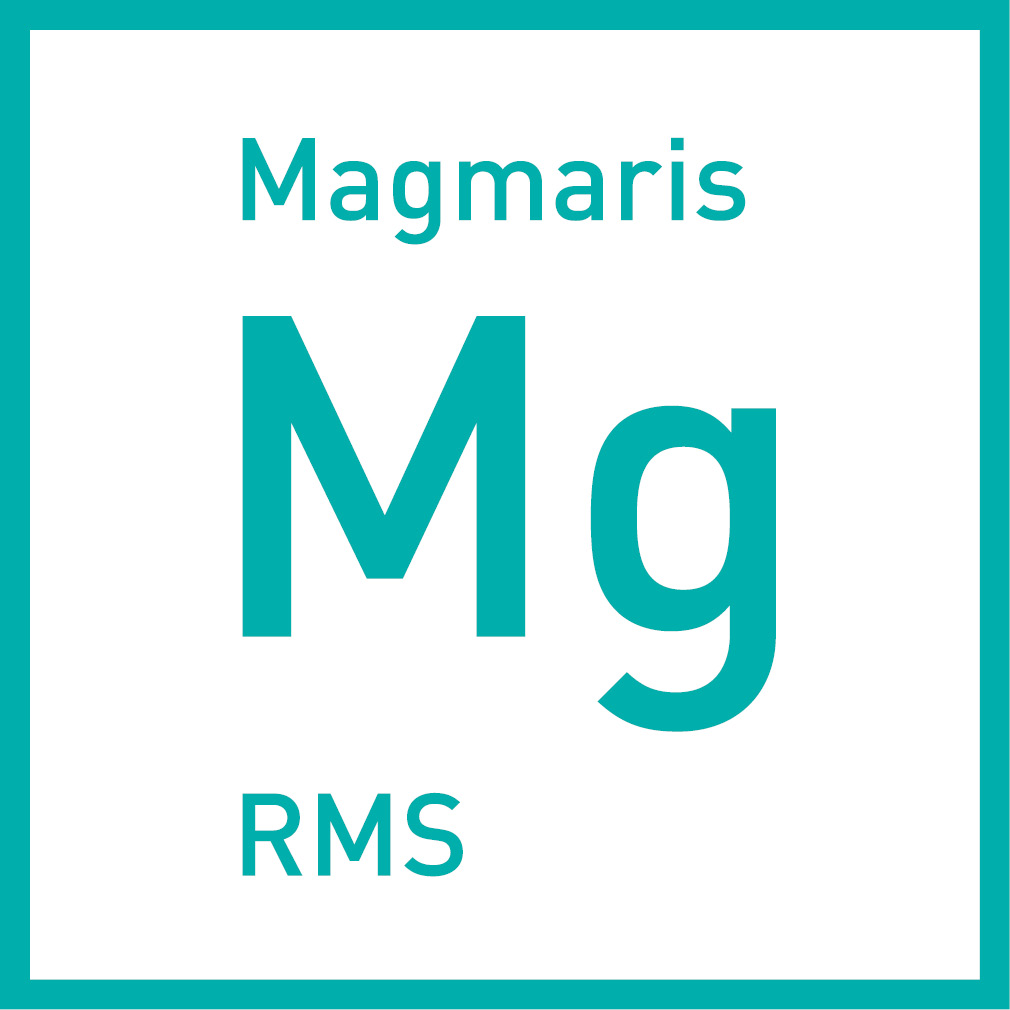 ---
Why Magnesium?
---
Magnesium alloy: Favorable mechanical properties of a robust Magnesium backbone


Robust Magnesium backbone
---
The mechanical strength of Magnesium is superior to polymers like PLLA.1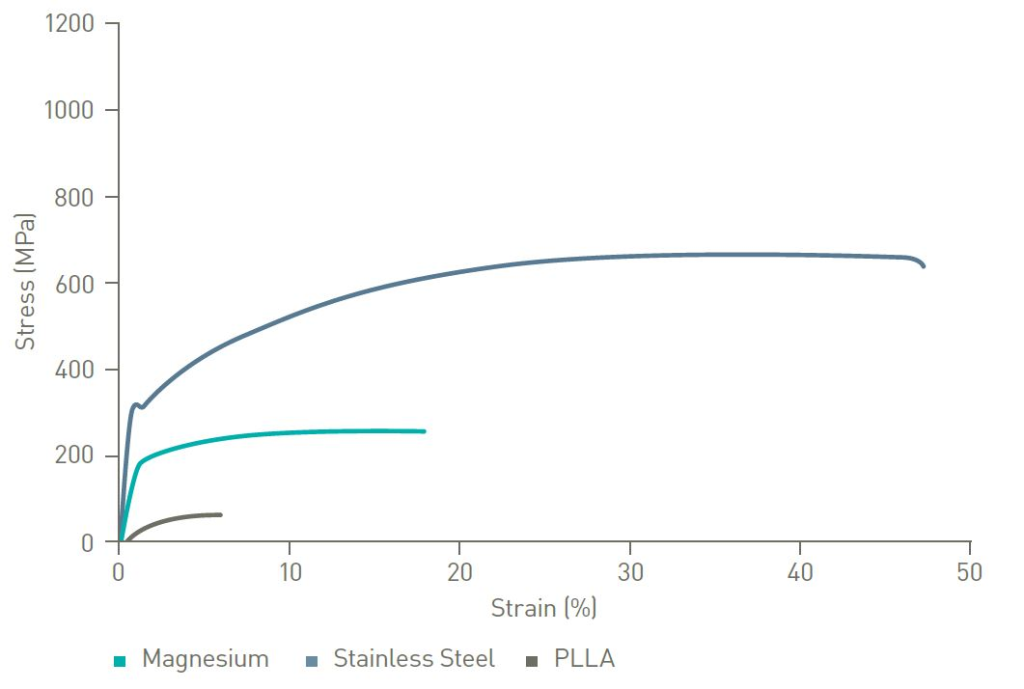 Stable recoil
---
Magmaris has a 38% lower recoil after 1 hour.2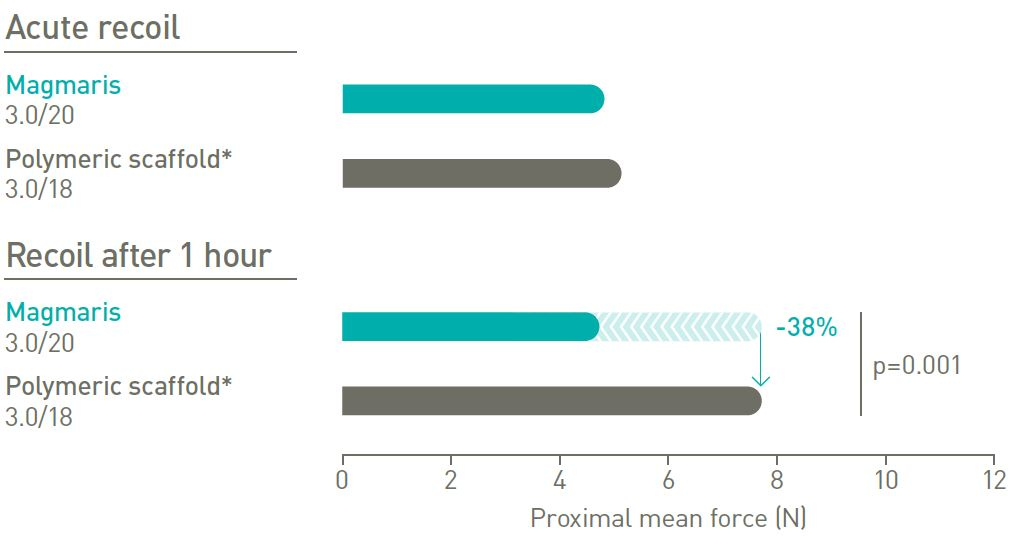 *Absorb, Abbott



Strong radial resistance
---
No significant diameter change under increasing physiological pressure.3








Rounded edges and smooth surface
---
The electropolished rounded edges and smooth surface of the Magmaris scaffold generate less resistance during delivery of the scaffold to the lesion.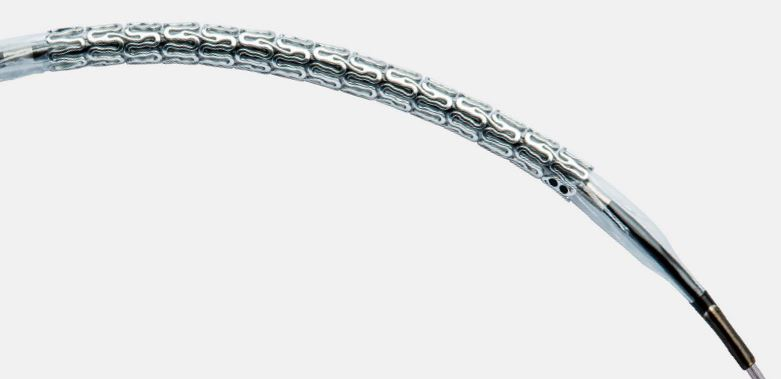 Compelling safety data
---
Confidence through evidence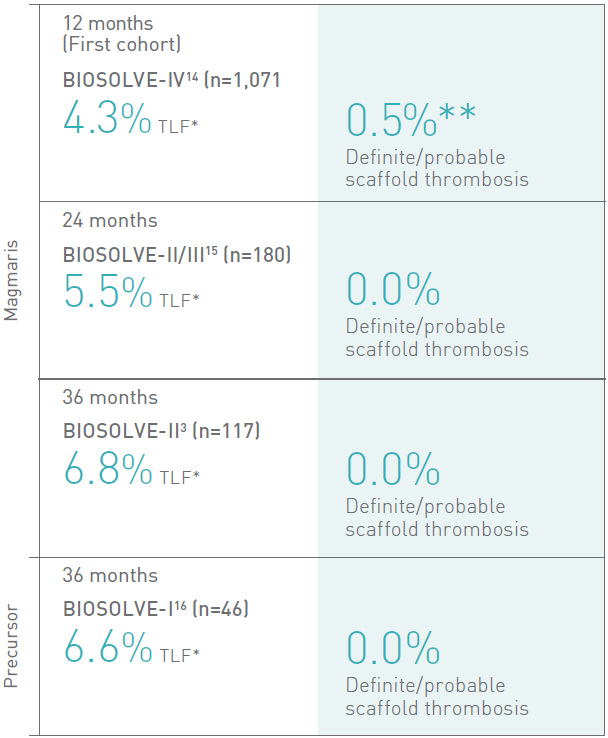 *Target Lesion Failure. Composite of cardiac and unknown death, target vessel myocardial infarction, clinically driven target lesion revascularization and CABG.
** Patient underwent MIDCAB with subsequent DAPT interruption 5 days after the procedure.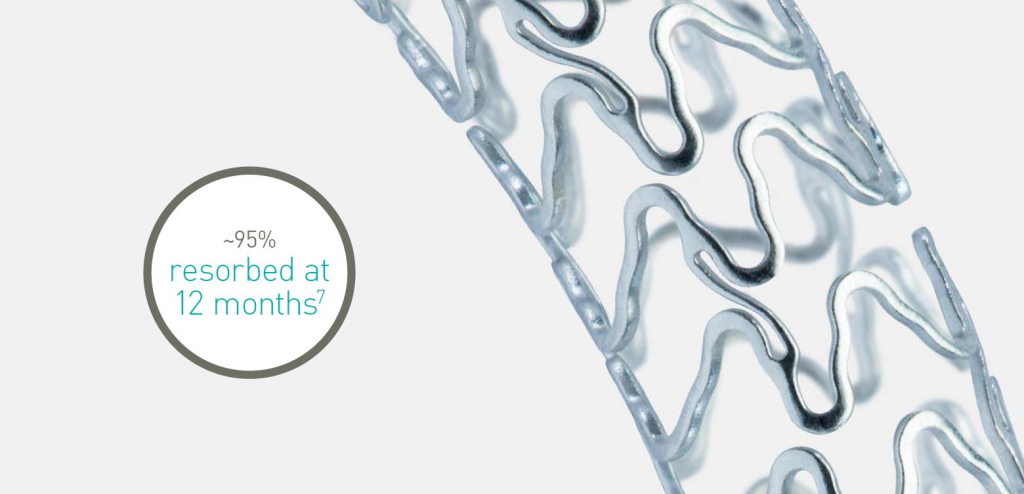 Fast resorption time
---
~95% of Magnesium resorbed at 12 months7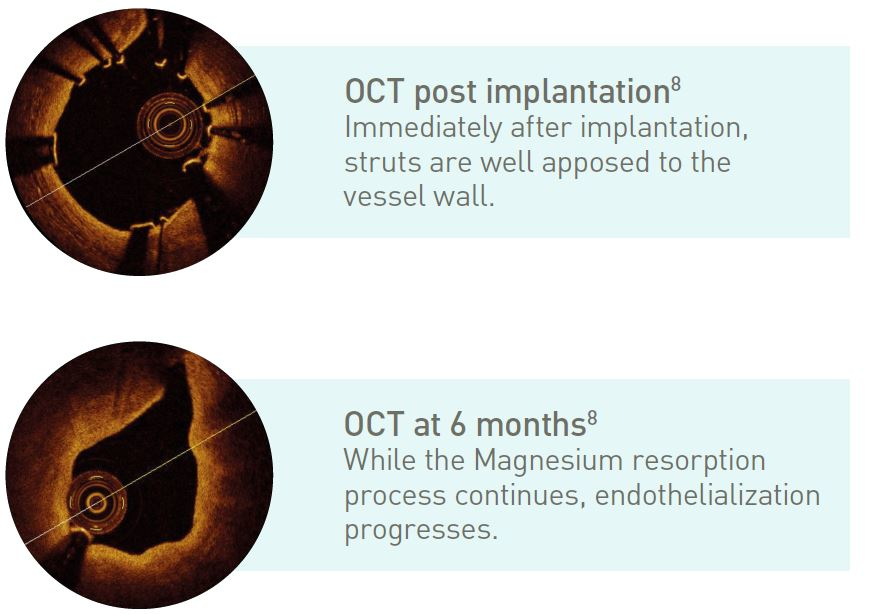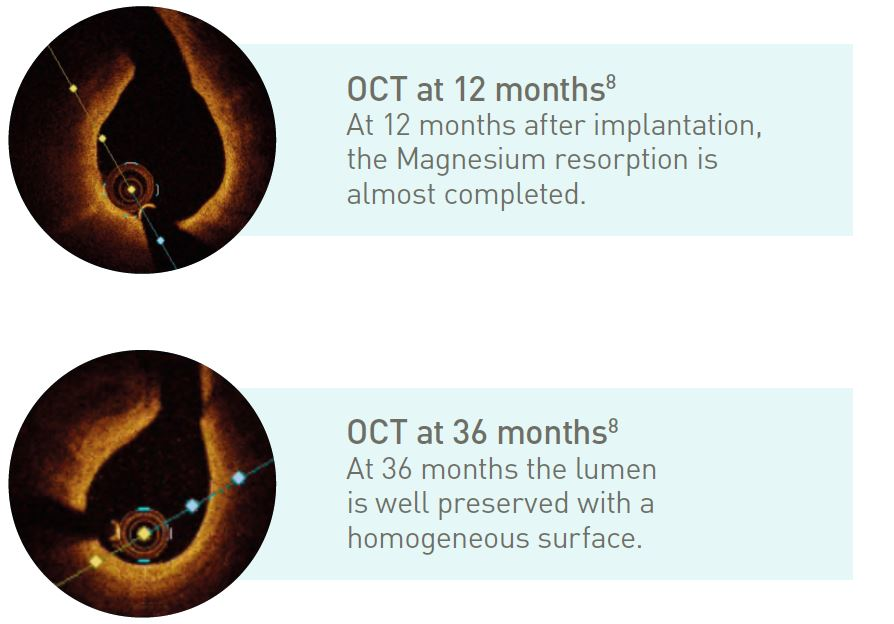 A more deliverable scaffold
---
More than 70% of physicians who have used Magmaris RMS in clinical practice have rated the device to be better than a polymeric scaffold.9*



Better lesion crossing
---
Up to 40% lower lesion entry and crossing force.10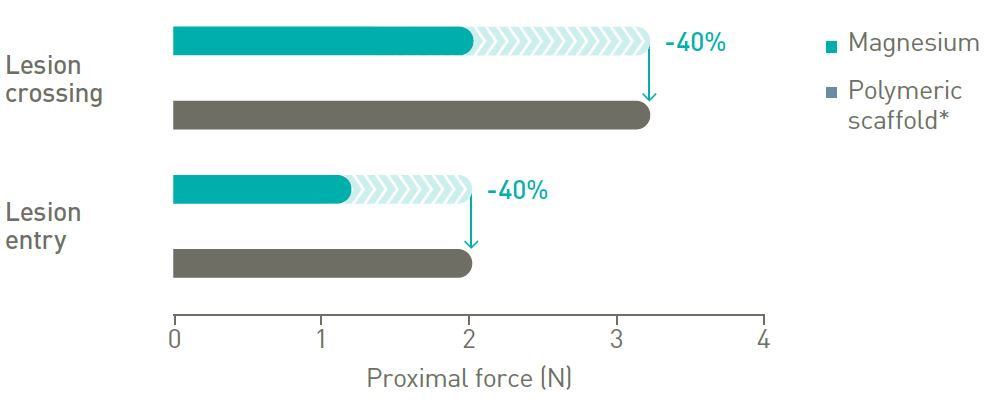 Better trackability in tortuous anatomy
---
42% less peak force.11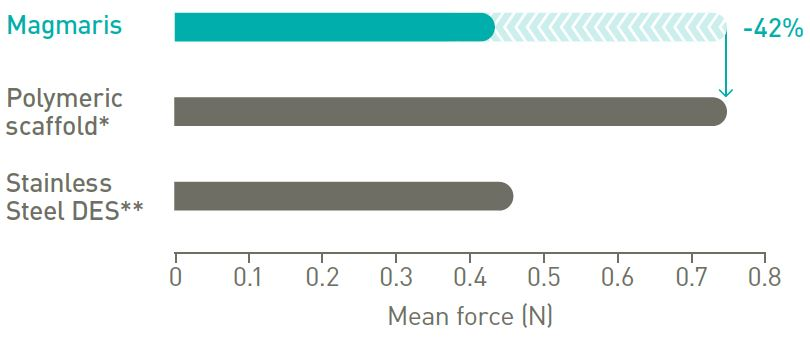 Better pushability
---
73% more force transmitted from hub to tip.12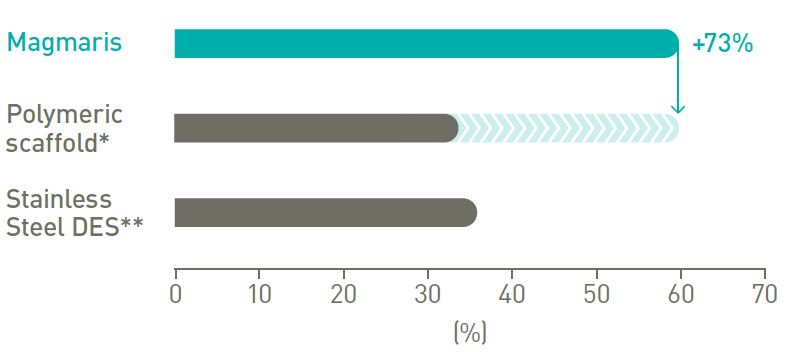 * Absorb, Abbott
** BioFreedom, Biosensors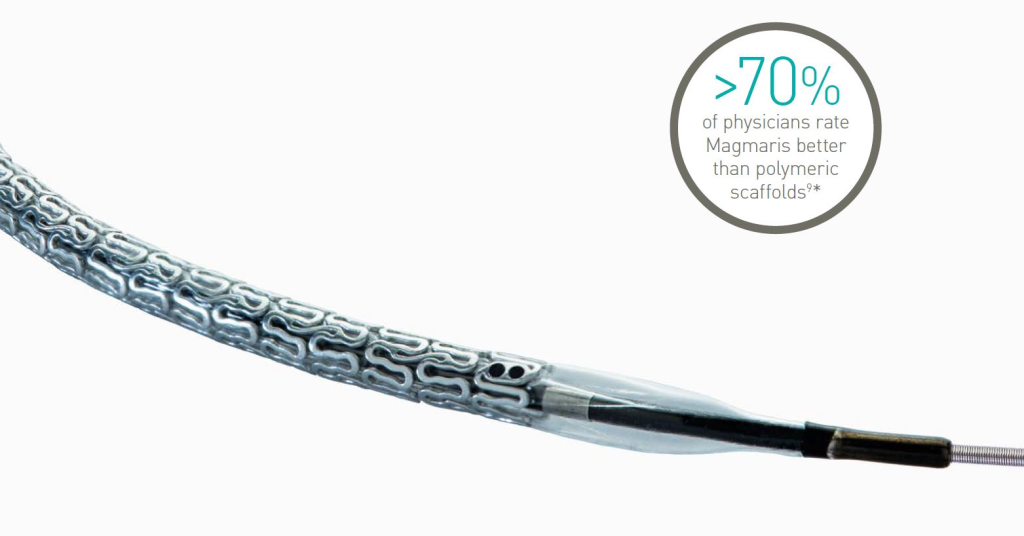 ---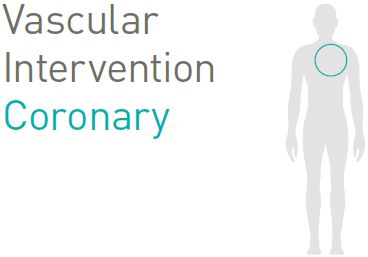 Magmaris

Indicated for de novo coronary artery lesions.*
1-3, 10-13. BIOTRONIK data on file; 4. Verheye S. Safety and Performance of the Resorbable Magnesium Scaffold, Magmaris in a Real World Setting - First Cohort Subjects at 12-month Follow-up of the BIOSOLVE-IV Registry. Presented at: TCT; September 25, 2019; San Francisco, USA. NCT02817802; (n = 2,054; 1,075 patients presented); 5. Haude M. Safety and Clinical Performance of the Drug Eluting Absorbable Metal Scaffold in the Treatment of Subjects with de Novo Lesions in Native Coronary Arteries at 36-month Follow-up-BIOSOLVE-II and -III, Presented at: TCT; September 27, 2019; San Francisco, USA; 6. Haude M, Ince H, Abizaid A. Long-term clinical data and multimodality imaging analysis of the BIOSOLVE-II study with the drug-eluting absorbable metal scaffold in the treatment of subjects with de novo lesions in native coronary arteries - BIOSOLVE-II. Presented at: EuroPCR; May 23, 2018; Paris. France; 7. Haude M, Erbel R, Erne P, et al. Safety and performance of the Drug-Eluting Absorbable Metal Scaffold (DREAMS) in patients with de novo coronary lesions: 3-year results of the prospective, multicenter, first-in-man BIOSOLVE-I trial. EuroIntervention. 2016; 12: e160-e166; 8. Joner M, Ruppelt P, Zumstein P, et al. Preclinical Evaluation of Degradation Kinetics and Elemental Mapping of First and Second Generation Bioresorbable Magnesium Scaffolds. EuroIntervention. 2018 Feb 20. pii: EIJ-D-17-00708. doi: 10.4244/EIJ-D-17-00708. [Epub ahead of print]; 9. BIOSOLVE-II case, GER443-012. Courtesy of M. Haude, Lukaskrankenhaus Neuss, Germany 2015.

Magmaris and BIOlute are trademarks or registered trademarks of the BIOTRONIK Group of Companies. Absorb is a trademark or registered trademark of the Abbott Group of Companies. BioFreedom is a trademark or registered trademark of Biosensors Europe.

*Indication as per IFU
Technical Data
Scaffold
Scaffold material
Proprietary Magnesium alloy
Markers
Two tantalum markers at each end
Active coating
BIOlute bioabsorbable Poly-L-Lactide (PLLA) eluting a limus drug
Drug dose
1.4 μg/mm2
Strut thickness/width
150 μm/150 μm
Maximum expandable diameter
Nominal Diameter +0.6 mm
Delivery System
Catheter type
Rapid exchange
Recommended guide catheter
6F (min. I.D. 0.070")
Crossing profile
1.5 mm
Guide wire diameter
0.014"
Usable catheter length
140 cm
Balloon material
Semi-rystalline polymer
Coating (distal shaft)
Dual coated
Marker bands
Two swaged platinum-iridium markers
Proximal shaft diameter
2.0F
Distal shaft diameter
2.9F
Nominal pressure (NP)
10 atm
Rated burst pressure (RBP)
16 atm
Compliance Chart
Balloon Diameter x Length (mm)
Nominal Pressure
atm8
10
10
(NP)
ø (mm)
3.00
3.54
Rated Burst Pressure
atm8
16
16
(RBP)
ø (mm)
3.29
3.82
Ordering Information
3.00
412526
412527
412528
3.50
412529
412530
412531
---
Contact
---